It was only last year that Google turned its links from red to blue, but during that time searchers have grown quite accustomed to the blue links. So much so that when Google recently turned them black, outrage ensued.
In an A/B test, Google has changed its blue link titles to black. According to the reactions so far, it's unlikely this change will become permanent any time soon. A Google spokesperson has confirmed the test, while stating they're not quite sure if the black links are here to stay.
Here's a quick screenshot of comments from Reddit regarding this news: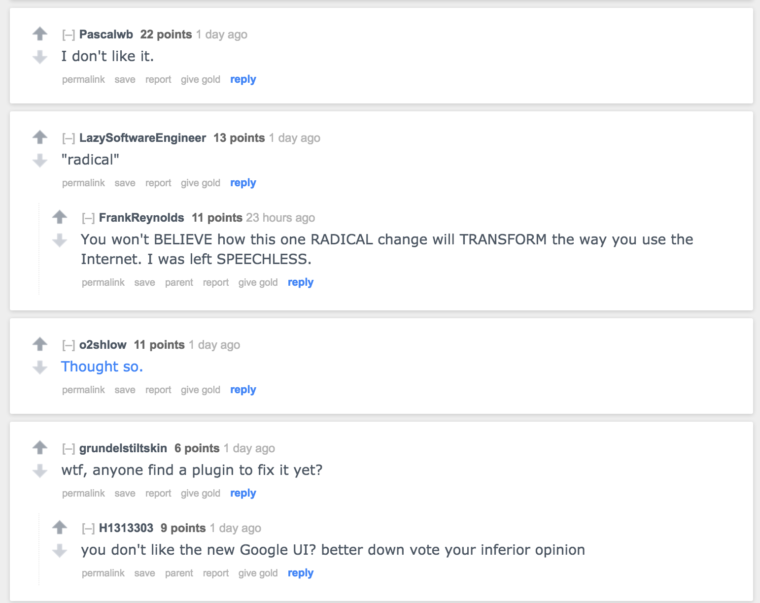 If you empathize with the commenter at the bottom and are looking for a way to "fix" this, you're in luck! There are a few ways you can go about changing the links back to blue. Keep in mind your mileage may vary, but here are some of the fixes people have reported so far.
How to Turn Black Links Back to Blue
A sure fire way to get blue links back is with the Chrome extension called Stylist, which lets you manipulate the style sheet of any website, even Google.
Some searchers have reported that logging in and out of their Google account will return the links back to blue.
Other users have reported seeing the blue links again after manipulating certain settings in Chrome.

In order to do this, navigate to the Google home page and click on the grid icon in the top left corner. Select "My Account".
When in your account settings, go to "Personal info & privacy". Within that section you can turn off "Your searches and browsing history", which allegedly can turn the links back to blue.
Alternatively, you can live with the black links until the test inevitably runs its course. Or, on the other hand, maybe black is the new blue?