You've been bitten by the travel bug. You're in the mood for adventure. You know what you want to do, maybe see exotic wildlife, or ride the fastest roller coasters — problem is, you don't know the best place to go for it. Sound like a situation you've been in before? Now Google has a solution.
Next time you're searching for travel you don't need to have a specific place in mind. With new search filters added to Google Flights, you can search by interests. Tnooz was first to report on this feature, and I couldn't resist giving it a spin.
Let's try one of my above examples using the new filters. If I wanted to spend a week in June seeking adventure, Google has all kinds of suggestions for me — from parachuting in Dubai, to bungee jumping in Macao (for the record you wouldn't catch me doing either of those things).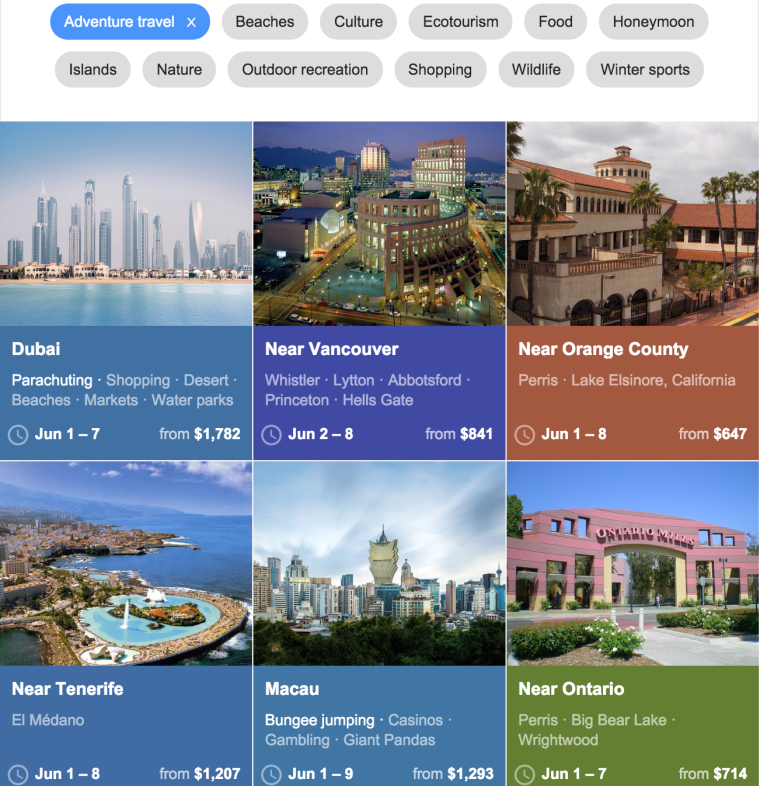 After making a selection you'll be presented with options for flight times and hotels so you can continue customizing your booking.
As you can see in the above screenshot, there are a wide variety of interest filters: Adventure, Beaches, Culture, Ecotourism, Food, Honeymoon, Islands, Nature, Outdoor recreation, Shopping, Wildlife, and Winter sports. Of course, if you did know where you wanted to go, you could easily combine existing filters with new filters and search for a relaxing weekend shopping in New York.
This new feature is only available when searching through Google Flights, and has no affect on the regular set of Google's search results. Conducting a travel search on Google.com has not been changed.
Featured Image Credit: Rawpixel.com / Shutterstock.com