Google. Founded in 1998, today more than 1.17 billion people use it. About 40,000 search queries are processed every second on average. It crawls 20 billion websites per day.
It's the new yellow book. It's the new advertising space. It's today's billboard that millions and millions of people see at any given moment.
Many business owners who don't specialize in SEO are easily deterred from staying up-to-date with the search giant when they learn the changeability of Google, but it's more crucial now than ever to embrace creating good content that Google will serve to readers.
Here's the truth: Google offers you the simplest and most convenient way to bring and keep your brand into the spotlight.
Google is Making History as the Uncrowned King of Online Advertising
These days, Google is going beyond search and taking over advertising, generating over $61 billion in ad revenue alone in 2014.
According to the numbers provided by mondaynote.com, Google has managed to crush all its competitors in terms of financial performance linked to its number of unique visitors (UVs) recorded on a monthly basis. In other words, Google knows how to monetize its UVs like a pro. As a matter of fact, this prominent player has succeeded in exceeding the performance of first-class publishers, such as The Guardian or The New York Times.
How Google Is Crushing It
The gap becomes even more obvious when it comes to measuring success in terms of digital revenues recorded per member.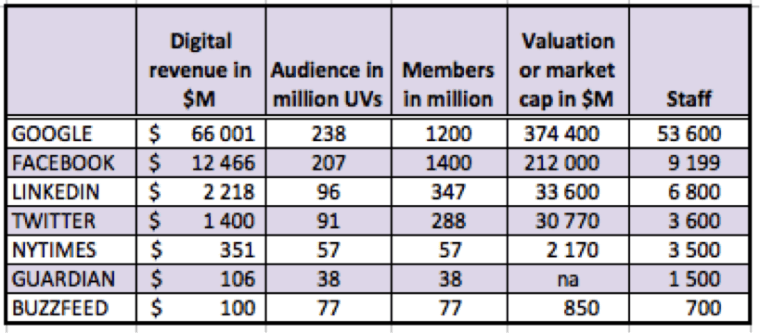 This chart introduced by the same source highlights a similar trend, indicating that Google is one step ahead of all its main competitors, including Facebook, Linkedin, and Twitter, with average digital revenue per member estimated at $55.
Google Does 5x Better Than Facebook
This may not seem like a lot, but before drawing any conclusions, do keep in mind the fact that Google monetizes its unique visitors far better than the digital edition of New York Times and five times better than Facebook, one of its most powerful competitors. In this category, Facebook manages to gather only $9 per member, followed closely by Linkedin and Twitter with $6 and respectively $5.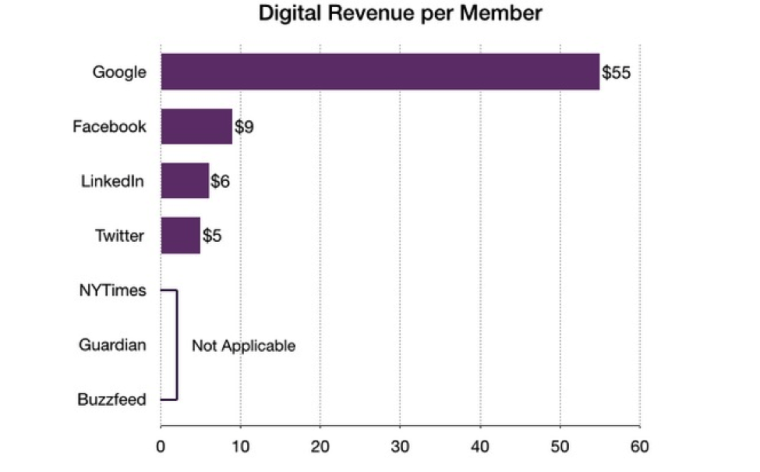 Google is simply taking content advertising by storm.
Gone is the phonebook. Other search engines pale in comparison. Old marketing is dead. These days, it is wiser to invest in Google instead of pouring money into billboards and old-school promotional campaigns. This applies to anyone who needs to sell their services or products.
As long as you're striving to bring your products and services into the spotlight, you should be focusing on premium content that could become visible and memorable due to the exposure guaranteed by Google, simply because Google is the leader for best ad method today. Aside from dominating search and making its main competitors bite the dust, Google is also reshaping the world of digital advertising.
While Facebook may (still) take pride in the highest number of members (1400 million), compared to Google (1200 million), Linkedin (347 million), Twitter (288 million) and The New York Times (57 million), the giant platform that encourages the development of thousands of online communities is still overthrown by Google when it comes to counting dollar bills.
Facebook is in charge of an ad business that brings around 12 billion dollars per year in revenues, but Google stays on top of the game by reporting digital revenues estimated at $61 billion each year.
You may be wondering: how is this even possible, taking into consideration the steady decline of Google+? Not too long ago, social media experts predicted the death of this social networking platform, advising users to repurpose their content, relocate, and re-evaluate their current marketing strategies before it's too late.
According to Inc.com, with Google+ stationed in Google's graveyards, people relying on this network to promote their businesses should start to focus on finding an exit strategy compatible with their long-term goals. On the other hand, Facebook does a great job at keeping its people close.
And according to the recent stats unveiled by Search Engine Watch, users spend at least 39 minutes on Facebook every single day. Furthermore, Facebook is the place where quality content gets shared to death; this is the environment where solid communities are formed around best-selling products and services. Facebook is the corner where users share their likes and dislikes openly and freely. Even so, Google still counts on a bigger audience (238 million unique visitors) than Facebook (207 million).
As if this wouldn't be enough, Google also leaves Facebook behind when it comes to counting pennies for each member.
In this context, how could one justify this major discrepancy?
It's True: People Rely on Online Searches When They are Determined to Make a Purchase
Let's get one thing straight: people read digital editions of newspapers for a number of reasons. Maybe they want to have access to fresh, accurate, and diverse information. Some of them may also be interested in finding details related to new products or services introduced on the market, while more than a few readers are probably simply looking for an enjoyable and somewhat productive way to kill time.
The same principle can be applied to justify the ever-growing popularity of giant social media platforms, such as Facebook. In an attempt to leave their daily worries behind and make time for themselves and their own needs, passions and interests, people spend a lot of their spare time on Facebook.
According to a recent article published by Bloomberg, Americans actually spend more time checking their feeds than taking care of their beloved pets.
The same source mentions the fact that 40% of all U.S citizens are active Facebook users. Controversially, less than 40% of all Americans complete basic assignments on a daily basis, like travelling to their workplace, doing housework, or buying consumer goods.
These numbers indicate that the Facebook addiction is quite strong and manages to influence our daily choices to some extent. On the other hand, here's an important aspect that you may have been neglecting all along: people who use search engines in general and Google in particular, are already inclined to make a purchase. They have an obvious commercial intent.
While more than a few visitors may turn to Google just to get an expert insight on a certain matter, find the cheapest pizza in town, or learn how to paint their fences on their own, most individuals turn to online search when they truly want something and are ready to spend money on it.
Big Brother? It's Google: They're Everywhere
Now try to see things from a different perspective: how exactly do you spend your time online, surfing the web, while you're not tweeting or stalking and/or un-friending people on Facebook?
Maybe you're researching different products that you're planning on buying.
Perhaps you're frequently landing on e-commerce sites to check out this season's must-haves and satisfy your weekly shopping cravings. Maybe you're just checking your emails.
Guess what? Google is targeting every single channel that you may be exploring to stay up-to-date with the most recent news, gossip or trends, have fun or just prevent boredom during your lunch break. Whether you're watching a funny viral video on YouTube or comparing several products launched by two local businesses online, Google is going to surprise you with ads that are relevant to the topics that you are interested at this point in time.
That's right: Google is watching your every step. And just when you thought things couldn't get any creepier, you find out that Google also knows what you've done in the past. Using its list of networks, including YouTube, Mobile Ads, Google Display Network, and DoubleClick, Google track its users and stimulates them to check out ads compatible with their current needs and interests.
Google's Rivals Are Working Hard
While Google is fiercely reaffirming its supremacy in the world of content advertising, the rest of its rivals are striving to live up to the same standards. Major publishers, such as The New York Times and The Guardian have actually done well to keep their devoted readers by their side by offering them an enjoyable browsing experience and unlimited access to quality, digestible information.
However, these two experienced players are still unable to top the performances recorded by giants operating in the social ads sector, which monetize users and visitors in a much more effective manner. LinkedIn may count on an attractive blogging platform, but its ads are quite expensive; in addition, this platform offers zero conversion tracking and its reporting tools are considered primitive by experts. On the other side of the coin, Twitter does a great job with its ads, but somehow fails to monetize its targeted audience.
Let's put it this way: if Facebook and Google Display Network were engaged in a boxing match, which one would manage to knock out its rival? An infographic distributed by WordStream indicates the latter player has everything it takes to bury its boxing opponent six feet under, including a superior advertising reach, far better revenues/growth, an increased advertising performance, and better ad targeting options and ad formats.
Sorry Facebook, and better luck next time.
In Terms of Content Advertising, Google Gives You the Best of Everything
At the end of the day, you don't really need to interpret the numbers listed above to realize that Google is one of the most feared competitors in the content advertising sector. By allowing its users to create catchy ads in all formats, Google gives its clients the opportunity to reach their targeted audiences while they are quietly surfing the Internet, without actually planning on making a purchase, signing up, or downloading something.
Once you figure out the basics of your campaign (budget, language, geo-targeting, network distribution), Google makes it easier for you to bring whatever you are selling under your buyer's nose; and this is clearly a major advantage you can't afford to neglect, especially when you're making an effort to market your products in a timely and cost-effective fashion.
And Don't Forget: Content is the New SEO
Marketers have been saying this statement online for years now (content is the new SEO). Neil Patel said this in 2012, and today it is more relevant that ever.
I personally have only used my own blog posts (I post 4 blogs a week to my site, 8 blogs a week to four-five guest blogs, each at least 1,000 words) and web page content to rank my site. No other tactics for rankings. I hold more than 30 keyword rankings in the top pages of Google and have held steady for more than a year. If you aren't investing in the type of content that Google loves, you won't get anywhere with your online marketing. Period.
Want to know what content Google loves? I've already covered that in this post on Search Engine Journal.
Image Credits
Featured Image: Yeamake via Shutterstock
In-post photo: turtix via Shutterstock
Charts credited to mondaynote.com