In case you're wondering what ever happened to that Google Labs feature called Google Squared, well it's still on and just got some enhancements. But in case you already forgot what Google Squared is, let me refresh your memory. It's an experimental search tool that collects facts from the web and presents them in an organized collection similar to a spreadsheet -or squared format.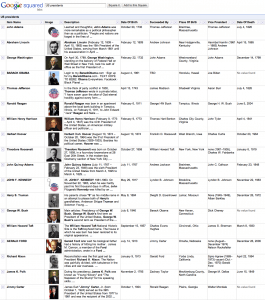 The new Google Squared feature adds more data, up to 120 facts or links to be exact. This is four times to the amount of data displayed by Google Squared when it was launched a couple of months ago.
Google is also now ranking the Google Squared data based on both relevance to the query and the quality of facts presented. Google Squared is no actively filtering out items and rows beginning on the initial square. In short, search results displayed by Google Squared is better than it was during its launch.
Google Squared columns can now also be sorted either by rank or group. It will also convert units in the background to ensure that data in the columns are sorted properly.
Now here's a more useful feature – exporting of Google Squared data as a CSV file readable by Google Spreadsheet. So you can practically build your own sets of Google Squared data, supplying your own information and use it for whatever purpose it may serve you.
So, will you use Google Squared from now on? Or will you still pass up on this one?