A Twitter user spotted a commercial search result consisting of paid listings with absolutely no organic listings and tweeted a screenshot of it. In fact, a user would have to click a "Show all results" link in order to see the organic listings. Danny Sullivan speculated it may be an edge case that needs looking into. Here is a screenshot of the unusual search result: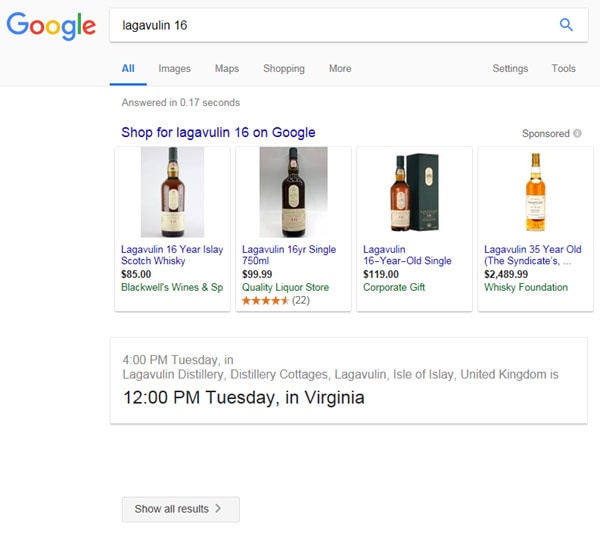 What is Google Shopping Actions?
Google announced a new feature called Google Shopping Actions that is supposed to show pay for performance ads adjacent to search results. The purpose of the Google Shopping Actions program is to satisfy the user intent to shop directly from Google. Here's what Google announced:
"Today's consumers don't just want answers; more and more, they're craving relevant, meaningful, and immediate assistance in completing their day-to-day shopping tasks.

We see this in our data: mobile searches for "where to buy" grew over 85% over the past 2 years. Moreover, 44% of those who use their voice-activated speaker at least weekly say they use the device to order products they need like groceries and household items at least once a week."

It's clear that people want helpful, personal, and frictionless interactions that allow them to shop wherever and however they want… they want an easier way to get their shopping tasks done."
Google's Danny Sullivan Suggests this is a Glitch
Danny Sullivan responded on Twitter to suggest that this search result was an edge case that needed looking into. He posted on Twitter that these results may be a glitch.

Danny Sullivan also Tweeted that he passed along these examples for review: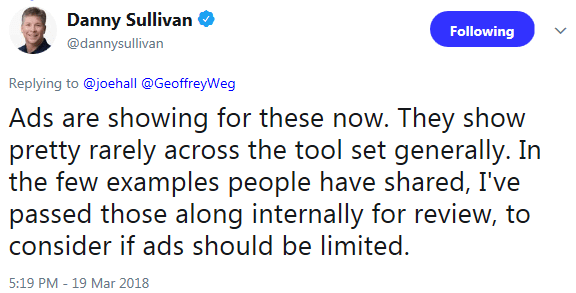 It's All About Satisfying User Intent
In the past Google decided to not show web directories and shopping comparison sites in their search results. The reasoning was that it didn't make sense to send users from a list of ten websites to another list of ten websites. Google decided it was a better user experience to send users directly to the answer that satisfies the user intent.
Google Shopping Actions is devised to satisfy user intent faster and conveniently. As Google states in their announcement, Google Shopping Actions delivers "frictionless interactions" that allow users to buy products easily directly through Google apps and services.
Google Shopping Actions Do Not Replace Ads
Google shopping Actions are devised to display adjacent to the regular organic search results. However, a Google user posted a search result that shows 100% advertising with no organic results at all. If a user wished to see organic results they would have to click a link to find them.
The link to the organic search results is shaded in a gray color meant to recede into the background and not call attention away from the advertising. the intention of the layout appears as if Google is trying to minimize the presence of that link in order to call more attention to the paid listings.
This is apparently not a test because many users can see it. But as Danny Sullivan suggests, this may be simply an edge case.
Screenshots by Author