Google's rich results testing tool is now able to test structured data markup for events, movies, and TV shows.
This addition was noticed by search marketer Aaron Bradley, who also conducted his own tests to confirm the tool is able to validate "TV and Movie" and "Event" structured data markup.
With these additions, Google's rich results testing tool now supports the following rich result types:
Job posting
Recipe
Course
TV and Movie
Event
Rich results in Google search include result types that are 'richer' than standard blue text links. This could include carousels, images, or other non-textual UI elements.
For example, conducting a search such as "jazz concerts this weekend" would pull up a list of related events near your current location. Here's what it would look like: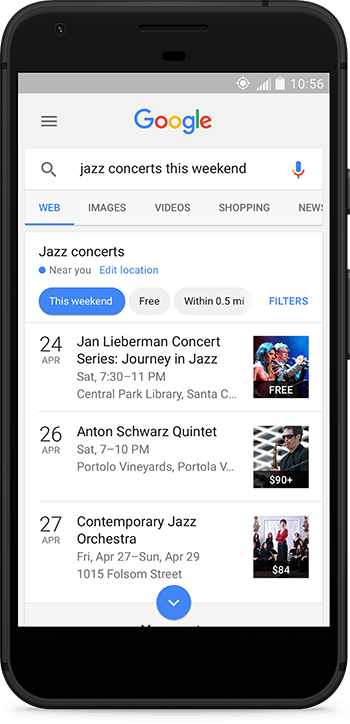 Google is able to populate the rich results in the above example by reading structured data markup contained on the event pages. That means, if you're hosting an event, you will have to use said markup in order for your event to be featured in Google's rich results.
Google's rich results testing tool helps site owners validate that their structured data has been implemented correctly. The tool does not currently support all types of rich results markup, but more types are being added on a regular basis. Validating structured data with the rich results testing tool is the one to know for sure if Google can read your markup.
You can learn more about the different types of rich results, and how to mark up your content accordingly, in Google's structured data guidelines.