Google appears to have extended the length of titles in search results snippets, according to a recent report.
RankRanger's tracking tools show the average length of page titles in search results has increased from 55 characters to 83 characters on average (at the time of this writing).
Here is RankRanger's original tweet from earlier in the week, although the average length of page titles has increased even further since then.
Seeing noticeable increases (circa 20%) in the average length of a result's title on desktop in multiple markets: https://t.co/XGjHJRMXfH #SEO pic.twitter.com/DX8Lylaare

— Rank Ranger (@RankRanger) September 26, 2018
As you can see in the graph below, this is an increase that occurred gradually throughout the month, before spiking on September 29th.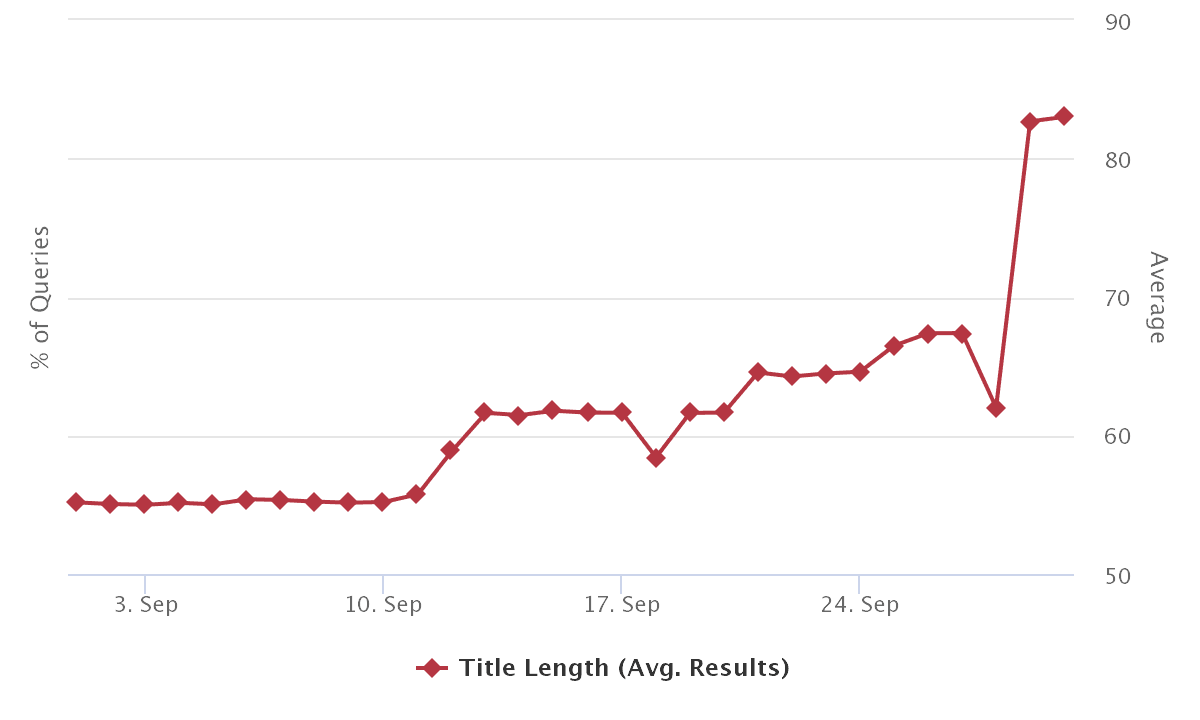 Given that this increase has been sustained over the past two weeks, it may indicate it's not just a temporary change.
However, Google extended the length of meta descriptions last December only to reduce the length months later.
So only time will tell if Google decides to keep this extended length.
In the meantime, should SEOs and site owners update their title tags?
To answer that question, I would say absolutely not. At least not yet.
It's too early to act on this reported increase in the length of page titles.
Moreover, Google has yet to officially acknowledge the change and/or provide any sort of direction.
When Google extended the length of meta descriptions last year it firmly advised site owners against making sitewide updates.
Why? Because search snippets may be dynamically generated according to users' queries.
So Google could use exactly what's written in the meta tags.
In other cases, Google could pull other text from the page in order to make it appear more relevant to what the individual user is searching for.
With that said, it's not worth the effort to go and rewrite everything. Google will ultimately display what it wants as a search snippet.