How diverse is Google's workplace? Well, Google will be the first to tell you that it's not where it wants to be in terms of the diversity of its employees.
Google released a report on their official blog today, the first of its kind, on the diversity of their workplace. Laszlo Bock, Google's Senior VP of People Operations, admits that the company has been reluctant to release such a report, but says now is the time to be candid about the issues.
Put simply, Google is not where we want to be when it comes to diversity, and it's hard to address these kinds of challenges if you're not prepared to discuss them openly, and with the facts
Here are Google's diversity statistics: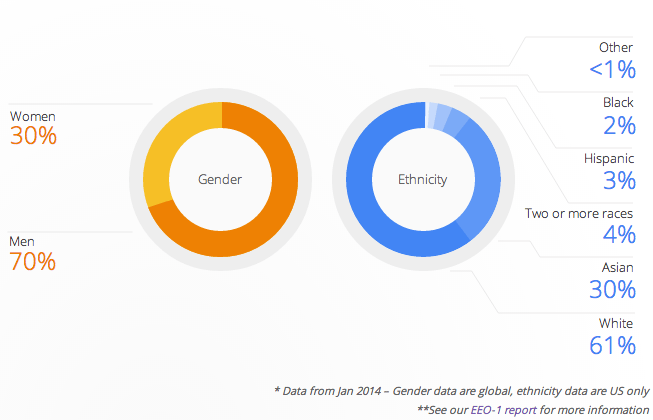 Bock offers a few reasons why technology companies, like Google, struggle to recruit and retain women and minorities, stating:
Women earn roughly 18 percent of all computer science degrees in the United States. Blacks and Hispanics make up under 10 percent of U.S. college grads and collect fewer than 5 percent of degrees in CS majors, respectively.
Bock says Google has been investing a lot of time and resources into education.
Google has been doing a few things to get more women and minorities working in the technology field, including donating more than $40 million to organizations working to bring computer science education to women and girls. Bock says Google has also been working with historically black colleges and universities to elevate coursework and attendance in computer science.
Bock reiterates once more that Google is "miles away" from where they want to be, but believes an important part of the solution is being clear about the extent of the problem. To learn more about Google's work on diversity, visit google.com/diversity.