Google is definitely showing its all out support to Twitter. Aside from the Google Replay feature which lets you view past tweets related to your current Google search results, Google has also launched Google Follow Finder.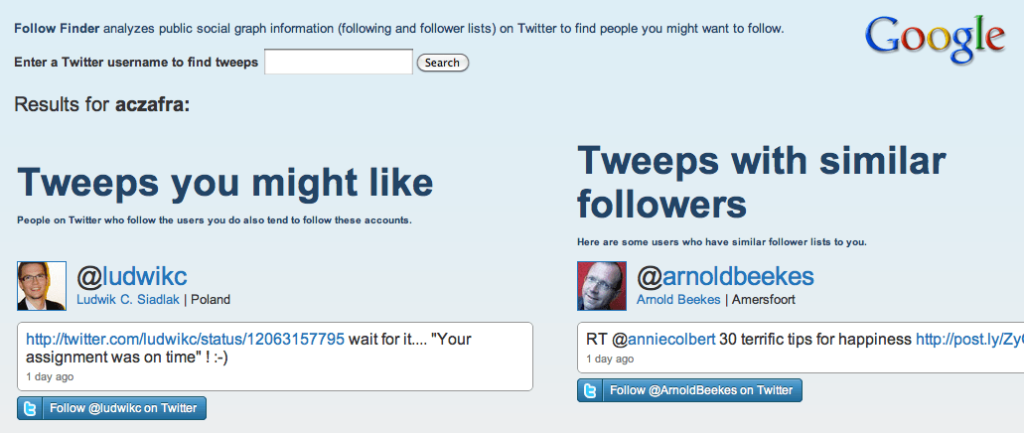 Available right now on Google Labs, Google Follow Finder makes it easier to find and follow Twitter users which you may choose to follow. Yes, this is definitely different from those "autobots" that automatically makes you follow people whenever they follow you unless you made it a prerequisite to have your approval first before following people on Twitter.
Using Google Follow Finder, you simply need to enter your Twitter account and the online tool will give you other Twitter members who are not yet in your following list. It's now then up to you whether you will follow them or not. It also works if you enter other people's Twitter account. You can do all this without visiting your account on Twitter.com.
Google Follow Finder utilizes Twitter's new @anywhere frameworks which was just announced today at the Chirp conference for Twitter developers. Twitter's @anywhere makes it easy to add Twitter functionality to any websites or blogs.
So now at least, the next time you want to find people to follow on Twitter, you'd have a chance to choose which one are interesting and which one are not. Incidentally, if you are not yet following me on Twitter, you can add me up – @aczafra. You might find my "auto tweets" quite interesting.