Want to go back in time and read those famous tweets that were indexed by Google? Well, actually Google did not just index those tweets, it has in fact archived them and are now giving you the chance to read those tweets again via Google search.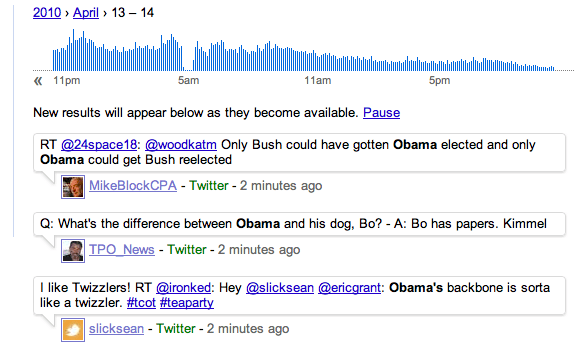 So, starting today, you can now zoom in to any point in time and replay what people have posted on Twitter about various topics that hit the headlines at some point in time. This will be featured on the "Show Options" on Google search results page. Once you've click this option, you will have to select "Updates." Once you've selected that, Google will then display the all familiar latest and greatest Twitter updates that it has indexed. On top of those tweets is a new chart showing year, month or day categories. You can then select any particular point in that calendar and Google will display the tweets that were posted during that period.
What's cool about that chart is that it also gives you the relative volume of tweet on a particular subject on a specific date. This is particularly useful if you want to review what has happened in the past and how people on Twitter reacted to those events.
This replay feature will be gradually roll out globally in the coming days. In the meantime, if you want to try it out, Google provided this special link.