Last week, Global Web Index released its December 2012 study of Active Social Platform Usage. As expected Facebook remains on top with over 50% of global internet users actively engaged on Facebook each month. The jaw-dropper of the report is that the Google Plus (G+) network has surpassed Twitter in number of active monthly users. In the month of December 2012 G+ grew to 343 million users globally, or about 25% of global internet users. Twitter came in 4th to YouTube with just over 20%.
According to Sam Fiorella, writing for the Huffington Post, to continue ignoring G+ as a marketing option is a risk few businesses can afford to take:
Google, through its various Web properties and deep integration with web- and social-based apps, is creating an interconnected database of users, content and relationships. This convergence of people, data and context is being referred to as the Web's trust-based network. Google search engine results will be reprioritized to more favorably rank content that has been +1'ed or shared using the Google share/like widget or created and/or shared by people in one of your Google+ circles. Of course, this presentation filter only works when you are searching Google.com while logged in to Google, but let's face it, with the growing number of applications and Web properties they control, the number of people permanently logged in is increasing exponentially every month. The goal of a search engine is to provide the most relevant information based on search queries and it now considers your social relationships a highly relevant factor in determining just what information is relevant to you.
While it's becoming increasingly important to pay attention to the search and social marketing opportunities offered by Google+, Twitter is not to be discounted. Even though, G+ numbers topped those of Twitter's in December, GWI also noted that Twitter is currently growing globally at a faster rate than any other social network. "GWI.8, the Q4 2012 dataset from GlobalWebIndex, shows that the number of active Twitter users grew 40% from Q2 2012 to Q4 2012. This is equal to 288 million monthly active users (claimed to have used or contribute to Twitter in the past month) across the 31 markets currently researched by GWI (representing nearly 90% of the global internet population aged 16 to 65). That marks a whopping growth rate in active users of 714% since July 2009."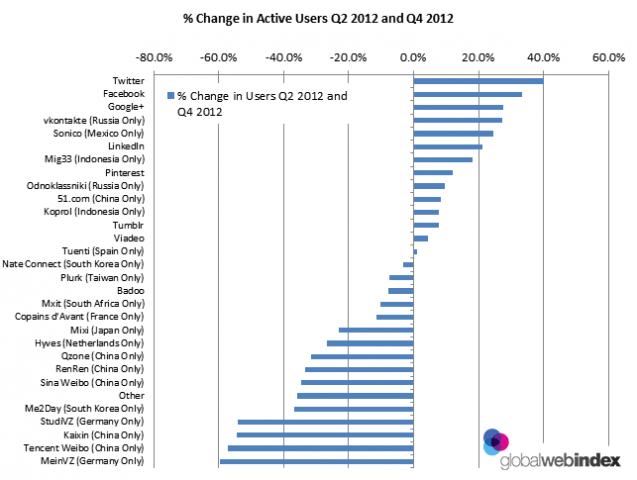 Is your brand making the most of the changing landscape of search and social?