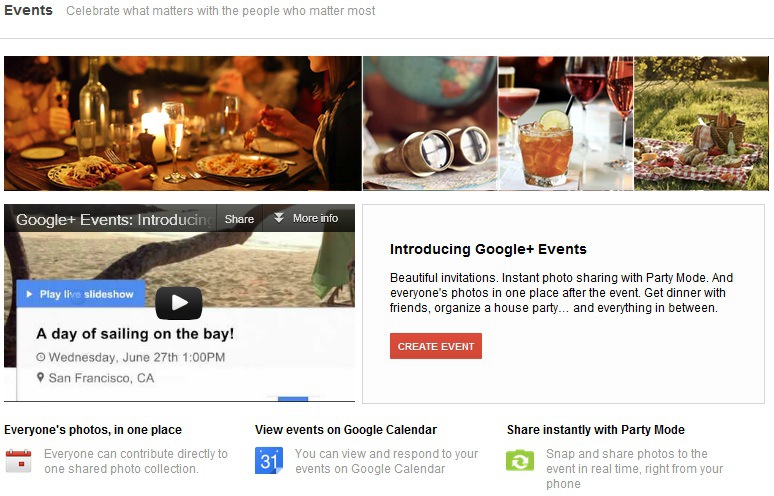 In an effort to make Evite obsolete and turn the invitation service industry upside down, Google recently launched Google+ Events. The new product, which was announced yesterday at the annual Google I/O conference, will break up an event into three distinct phases and add a social element that encourages guest participation and interaction. Below are the three phases of a Google+ Event:
Before the Event –
Event organizers can easily customize an invitation and invite people to the Google+ Event. The invitations can be customized to include cinemagraphic themes, personalized video greetings, and animations. As a result of the Google Calendar integration, users that RSVP will have the event automatically added to their calendar. Event attendees and organizers can visit the event page at any time to see the guest list and updates from the host.
During the Event—
Although people with smartphones are naturally inclined to take photos at an event, the majority of photos never get shared with the other people at the event. Now, through the use of "Party Mode," event attendees' photos are added to the event in real-time. In addition, the photos can be automatically added to a live slideshow displayed at the event.
After the Event—
After the event is over, attendees can easily access the event page to browse the event photos and comments in chronological order. There is also an "Events Highlights" section that features the most popular photos and comments from the event.
Denise Ho, the Google+ Product Manager, posted the following on her Google+ page regarding the new feature:
"Most event products do a decent job of event organization, but events are so much more than that. We look forward to celebrating life with the people we care about, and long after the event is over, we look back fondly at those shared memories. So we designed G+ Events to not only make you plan better with beautiful cinemagraphic themes and calendar integration, during the event, you'll have loads of fun with Party Mode and a live photo stream. After the event, we've created a shared space for everyone's photos and videos so the experience can live on forever."
Vic Gundotra, a Senior VP at Google, indicated that the new service is going to shake up the invitation industry:
"Today's online event tools are really just web forms that ask, "Are you going?" Worse yet, they bail when you need them the most, during the actual event and after everyone leaves. In life we plan, we party, and we keep in touch. Software should make all of this more awesome, and that's exactly our aim with Google+ Events."
In addition to launching the new Google+ Events service, Google also announced that the social network has reached over 150 million monthly users and more than 250 million total accounts.
Sources Include: Google Blog, Google+ via Denise Ho, & Marketing Land