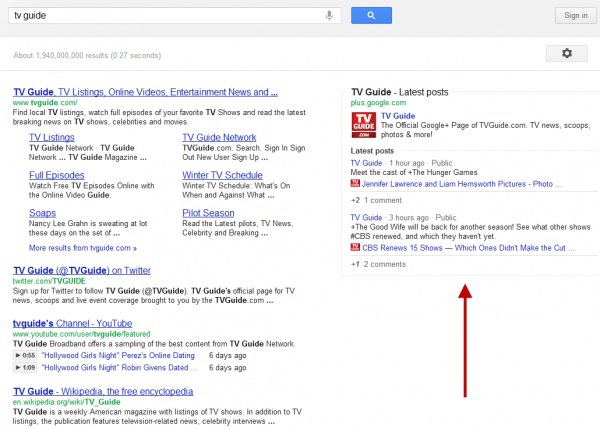 Last evening, Danny Sullivan of Search Engine Land reported that Google is now highlighting "Latest Posts" from Google+ pages and profiles in the search results. Until this update went live, the Google+ Direct Connect feature had displayed recent Google+ posts directly below a brand's "normal" links. Now, Google is testing a reorganized search results page that displays recent Google+ activity on the on the right-hand side where PPC ads are typically displayed.
Google told Search Engine Land the following regarding the recent change:
"We're continuing to experiment with the ways we can help you find and interact with the people you're looking for or who may be related to the topic you're searching for."
The new format, which enables a person or brand to saturate the top-half of a search results page, provides search marketers with the opportunity to simultaneously improve visibility for clients and have more control over the content displayed. With Google continuing to focus on ways to integrate Google+ content and prominently display that content in the search results, companies should be focusing on developing a strong Google+ strategy.
[Sources Include: Search Engine Land; Image by Search Engine Land]