Business owners that either provide a service and have a brick and mortar presence have been using Google Places for quite some time. Google is revamping Google Places and G+.
They just released an app for Google Places that is now available on both the iPhone and the iPod Touch. If you're looking for it directly, you can search using the term Google Places. In the app store, it shows up as Google+ Local.
This is what it looks like! Who's getting excited to use it?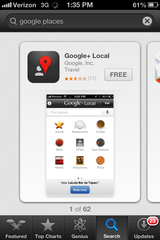 What will you be able to do with this app?
This app currently has some incredible features. Remember setting up Google Places? (Lots of boxes to fill out on Google's signup page & having to deal with the postcard)
Set up your business listing
Edi business information
Update your G+ page with pictures
Access analytical data
Manage multiple business locations
This is certainly an innovation, as we do everything from our phones now. What are your thoughts on the new app?