Without question, Google places and Google + has been somewhat of a nightmare for local business owners. Local business owners rely on their local SEO for business. At the moment, Google is rolling out updates which will begin the process of transferring business from Places to Google + Local. As a result, it will make the process:
easier to use

faster updates
integration with AdWords (Express) and G+
1. Easier to Use
Most sites on the internet that are user friendly make use of some sort of a widget that helps guide customers or visitors through the funnel, sales process, or even completion process. It helps us see the big picture and not get overwhelmed.
Google+ Local features such a widget and breaks down the set up process into 3 simple steps. It looks like this:

2. Faster updates
Google has promised to have a faster turnaround from edit to live action. Most of Google's properties have a 24-48 hour guarantee. This should be great, especially when you're counting on these listings to bring you daily business.
3. Integration with AdWords (Express) and G+
I'm blow away by this one stop shop, so to speak. You can manage your AdWords straight from your G+ Local dashboard. You will also have the functionality to be able to engage on the G+ platform with your fans, customers, and followers. How do you like that? It looks like: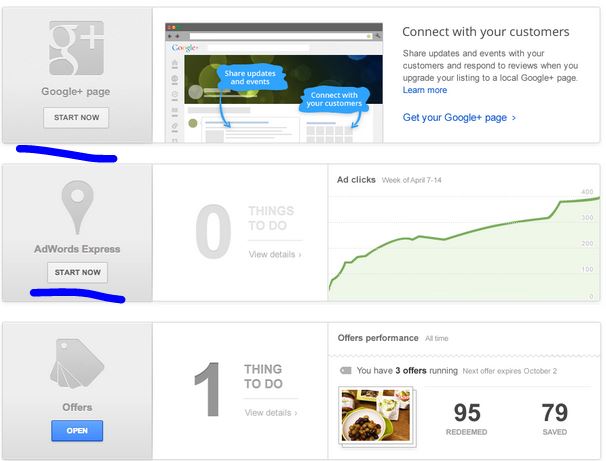 Conclusion
The new updates which take business owners from Places to Google + Local will be much easier to use, faster response from edits, and integration with G+ and AdWords Express. What are your thoughts? Do you think it will make managing local businesses much easier?