What a big couple of months for the Google SERPs. First they add the "instant" feature (which I'm still getting used to) and most recently, they release a game changer in Google Place search. Google Place search is arguably the most significant change they have made in many years and as a result there is a lot of chatter on what this means for marketers and users.
Most of the focus has been directed towards the SEO changes which can be found here , here and here. It is still very early on to make assumptions about the affects this change will have on PPC as shifts and updates are still being made to the layout, but there are a few initial findings and ways to stay abreast with these changes.
What to do about the 'floating map'? This map is now taking up a large piece of above the fold real estate which makes it difficult to establish a high performance position. I have a feeling the placement of this map is being tested and monitored very closely and doubt Google would implement anything that would scare away their Ad Words golden goose or share holders. The initial thought is that the top 3 positions become even more important, thus increasing competition and CPC's. Although a most likely scenario, is it possible that this new layout can increase results for positions below the map? Based on a search for office supplies, I notice that the map covers up the higher positions when the page is scrolled. It might be worth testing some keywords in these lower positions in comparison to the top 3.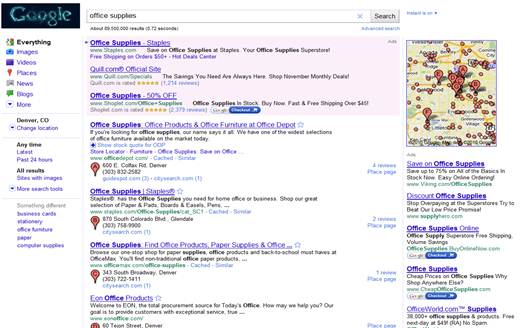 Increased competition: Google Ad Words has always been competitive and even with this change, the same amount of ads are showing. In fact, there is the possibility to expand to see more ads if you like, although I doubt that feature will catch fire anytime soon. The main change here is that the results just became more local so PPC strategies need to shift with it. Yes, click through rates might suffer on generic words, but these ads should become more local. This might be a good time to audit your campaigns for targeting, keywords and ad copy to ensure they match the new local landscape and differentiate from competing ads.
Maximize your options: Google offers several options to enhance your PPC ad including: ad extensions, site links, review extensions and product extensions. These options can be valuable in potentially increasing click through rates in this new environment.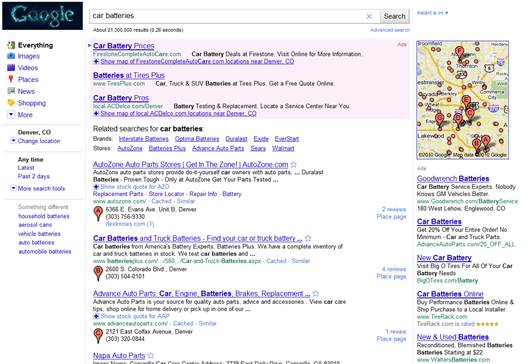 With all the recent changes in the search marketing industry lately it seems the only constant is change. Google has once again sent us scrambling and it probably won't be the last time. Finding ways to work with these changes rather than resisting them can be very beneficial. If you have any other tips or thoughts please let me know.