Google or Yahoo Manchester United's New Sponsor?
Back when my uncle used to race Unlimited Hydroplanes he decided to stop racing for Miller & Ford and start his own racing team. He went down to New Zealand and purchased a mammoth boat from Sir Peter Knight in Christ Church, brought the vessel back to the states and started to assemble his team. One problem, however, was securing sponsors. Hydroplane boat racing is not as popular on the East Coast of the United States as it was 20 years ago, with most successful racing teams being sponsored by businesses based in racing hotspots such as Detroit, Valleyfield Quebec, and other Canadian areas.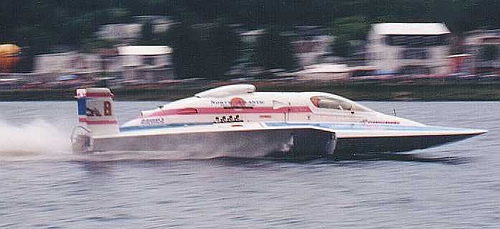 I suggested to my uncle that he look into Yahoo for a sponsorship, as the local marinas that he signed on weren't covering the bills of his dream to compete against the big boys like the Budweiser, O'Boy Oberto and Casino boats. Shortly afterwards, he left the dangerous world of boat racing to pursue his less death defying hobbies.
Now, 5 years later, it looks like Yahoo and Google are starting to become interested in the world of Sports Marketing, as both are apparently in talks with the English Manchester United football (soccer in the US) club.
Don't let the over excitement of the Manchester United football fans online fool you, this would not be a first for Yahoo (maybe for Google). Yahoo has been quite successful in sports marketing with a 2001 global sponsorship of the FIFA World Cup and the Yahoo Dome, home to Japan's Fukuoka SoftBank Hawks.
Sure, seeing the Google or Yahoo logo on a Manchester United jersey would be pretty cool and great exposure for either search engine in the UK, especially for Google which has opened a new Google Plex in London. However, I do believe that Manchester fans would rather see David Beckham back in a United jersey, regardless of their new sponsor.