Recently Google Australia introduced some new social features to iGoogle, specifically social gadgets that bring iGoogle closer to becoming a full-featured social networking site. And it didn't take Google that long to make these social gadgets available for all iGoogle users.
These social gadgets for iGoogle allows you to share, collaborate and play games with other users. That is on top of the iGoogle being a user's start page.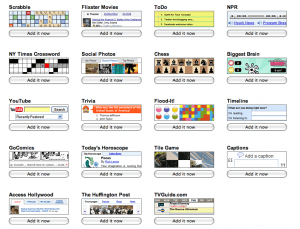 There are currently 19 social gadgets available for everyone to use on their iGoogle homepage. It ranges from online games, to-do apps, information sharing and other useful and not so useful applications.
If you find these social gadgets useful for your undertakings, it will be important to note that your friends will be able to see what you share or do in your social gadgets if they have the same gadgets on their iGoogle homepage. Or you can let them subscribe to a news feed called Updates which can either be your shared photo albums, your favorite comic strips, travel plans and other activities you share online. You can also easily share these social gadgets to your Friends group if you happen to be maintaining one from your Google contacts.
The sharing features of these social gadgets are optional and you stop sharing one or several gadgets by disabling them from your iGoogle homepage.
For gadget developers, you can contribute to the expansion of available gadgets by visiting this site – code.google.com/igoogle. You might want to submit a Twitter or Facebook gadget for us to see which blends well with Google.