This week Google introduced a new way for website owners to monetize their site's content — the Google Consumer Surveys publisher network is now open for sign ups.
What is it? Think of it like a paywall, but without having to pay actual money. Your visitors just have to answer a few short surveys in exchange for access to your content, and you earn money for each question answered.
More and more sites are adding paywalls to access their content, meaning you have to pay a one-time or subscription fee to read articles, watch videos etc. The Wall Street Journal immediately comes to mind as a site that does this.
Google Consumer Surveys are similar to paywalls in the way that they block users from accessing content. However, the only barrier to entry is answering a few survey questions. No one has to shell out their hard earned money, but there is real potential here for website owners to earn extra money.
How much can you earn? The going rate right now is 5 cents per answer. Survey creators are charged 10 cents per survey, so that works out to 50/50 revenue sharing.
Here's an example of what it looks like in action: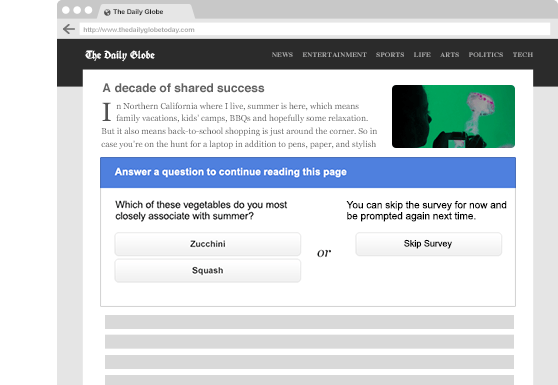 The announcement states Google Consumer Surveys are easy to control and add to your site. You can choose where they appear and how often users are prompted to fill them out. You can also how much content you want to make available, and how much of it you want to make accessible via filling out surveys.
There are some requirements in order to be accepted into this program. You need to have an AdSense account in good standing, an 18+ audience, and must follow Google's Publisher Program Policies.
US publishers are already being accepted, with publishers in the UK and Canada soon to follow. In the coming months even more countries are said to be added.
To learn more about this program, or to apply as a publisher, you can find everything you need to know right here.