Google has been making a lot of changes lately when it comes to News Search. For those that rely heavily on traffic from Google News, you know that a change in algorithm or glitch with indexation can make or break your month. Some recent updates however, may give you a one up on the competition if used properly. These changes do not seem to have rocked the search world, but in my opinion could potentially help publishers and individual bloggers out considerably. Let's explore the latest and greatest.
1). Standout Tags:
Just last month, Google announced a new content tag that will allow publishers to both give and get credit when credit is due. By placing the 'standout' tag in the HTML header of an article, you may get that article marked as "Featured" on the Google News homepage and in News Search results.
What is interesting is the way in which the use of the content tag is recommended. It is encouraged to mark your own content as 'standout' but at a maximum of 7 times per week. This is to ensure publishers don't abuse the tag. However, by recognizing other publishers' content with the standout tag (when linking from your own news article, for example), there is no limit to how many articles can be tagged.
This means that Google is encouraging publishers to reward great content and by doing so, you are more likely to get better Google News visibility yourself. Referencing and recognizing top quality content is just one way that Google algorithms can determine the overall quality of your own content.
The main challenge with this tag comes with implementation. When working within a large organization that may have dozens of contributors, it will be a task in itself to get editors to work this into their content production process. Furthermore, depending on your CMS there may not be a quick and easy way to do this. I'm interested to hear feedback whether or not implementation has been an issue thus far.
2). Author Information in Search Results:
Just like it sounds, Google is now testing the display of author information in search results. The goal of this feature is to better recognize authors by giving them the opportunity to have their information more prominently displayed as well as give their readers more information surrounding other content that author has written in the past.
In order to do this, the process is relatively simple. You'll need to create a Google Profile with a good quality headshot for your profile picture. Then you can verify authorship of your content by associating it using one of two methods mentioned in this help article.
It's funny to me that Google is basically dangling the carrot of better search engine visibility in front of authors, only if they create a Google Profile. Whether or not this catches on is yet to be seen, however individuals looking to establish themselves would certainly benefit.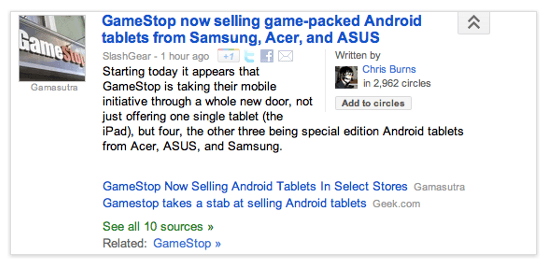 3). Personalization:
Google News offers a variety of ways that allows readers to customize their news experience based on personal interests. This can be done by adjusting your location, using your web history to automatically personalize for you, setting particular categories of interest and more. What I'm curious to know is how personalization has impacted particular publishers. For example, if I don't think of myself as a tech enthusiast I wouldn't add this category to be updated on the latest news. However, I might actually be really interested in the latest iPhone updates because I'm in the market for a new phone. So are some publishers losing out? Not sure, but again interested in learning how this may or may not be impacting traffic.
All in all, it's worth it to stay in tune to the changes Google News has been rolling out and to continue to do so over the coming months. These updates are impacting small and large publishers, individual bloggers and contributors as well as individual personal use. I'm excited for the next big announcement, whatever that may be.