A few weeks ago I noticed a search results test. Tests can reveal the direction Google aspires to take in a mobile first world. It's likely not a snapshot of the future of search. But it may reveal what concerns Google about a mobile first search environment. And this should be of concern to anyone who relies on Google.
What are Google's Top Mobile Priorities?
What are the underlying concerns are that lead to Google's design considerations? While the screenshots may not make it to a SERP near you, the underlying concerns may manifest in other ways.
The above screenshot is of a test Google recently ran for a new SERP design. The screenshot was taken on a desktop computer. Yet although this test was displaying on a desktop, the design choices clearly indicate a mobile first design focus. There are links to Weather, Sports, Entertainment and Eat & Drink.
Anticipating User Intent
Google's mobile first design choices seem to have a focus on predicting user intent. These four search query topics (weather, sports, etc.) represent Google's attempt to predict user intent. Predicting user intent makes it easy to locate what users need by skipping the step of having to speak or spell a search query.
Google has researched what kinds of queries are popular for voice search. Quite likely these four topics are typical for mobile search.
Google analyzed differences between voice search queries and desktop queries and reached the following conclusions in a paper titled, Google Search by Voice: A Case Study:
"Voice searches are more likely to be about an "on-the-go" topic: Mobile queries, and voice searches in particular, have a much greater emphasis on categories such as food and drink and local businesses.

Voice searches are less likely to be about a potentially sensitive subject: Categories that consist of sensitive content (adult themes, social networking, and health) are avoided by voice search users, relatively speaking. This may be because they wish to preserve their privacy in a public setting.

Voice searches are less likely to be for a website that requires significant interaction: Voice searches are relatively rarely about the sorts of topics that require signifcant interaction following the search, such as games and social networking."
In another study called, Say What? Say Why Users Choose to Speak their Web Queries, the researchers discovered what the leading search query topics were. They listed Food & Drink, Local, Shopping, Travel, Sports, Entertainment as the most popular query topics.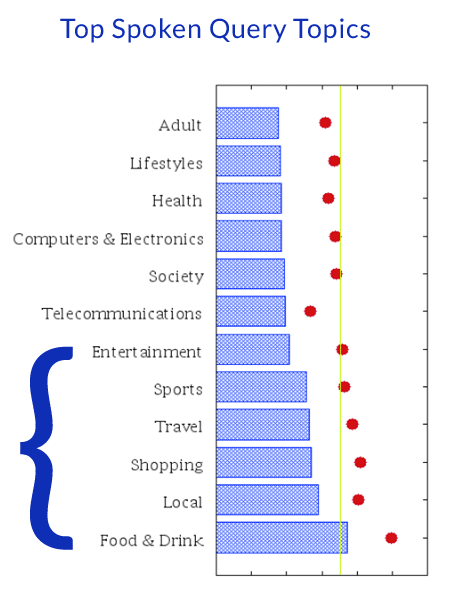 As you can see, food and drink, on the go, and local type queries are the most popular topics for mobile queries. That study was done in 2009, so it might be that the same study may yield slightly different results today. That may be why the Weather topic may be included in the SERPs test.
Takeaway on Mobile First SERPs
Google has a design initiative called Material Design that seeks to unify user interface elements across all devices and Google apps. And while the UI design elements may conform to a unified design, the judgment calls on what search query topics to use is focused on mobile. But this search test indicates that mobile first may mean more than just a pretty user interface.
The insight here is how much mobile first user intent considerations are influencing what the future of mobile and desktop search for the future will look like. The prominent links to Weather, Sports, Entertainment, Eat & Drink indicate that sites that satisfy mobile user intent are ascendant. This search test confirms a design bias at Google that focuses on not only a Mobile First User Interface, but on a set of search results that speed users to their sites.
Screenshots by Author