Google is finally bringing some useful features from its Android app to iOS users. Among these new features are offline navigation, local gas price information, store busy times, and more.
While the addition of each of these features is noteworthy, the most significant of these updates is offline navigation. Now you can grab any section of a Google map and save it to your phone to access again whenever you'd like.
Download Maps for Offline Use
Saving a section of a map to your iOS device gives you all the functionality you'd expect from accessing Maps with an Internet connection. This includes the ability to search for locations within the area – from there you can get turn by turn directions to the location, retrieve store hour information, and everything else possible with a connection. Well, almost everything.
Omitted from downloaded maps is anything not related to traveling with your own vehicles. That means transit information, as well as walking and biking directions, are not available in offline maps
There's no word on if those features will be available at some point, but as it stands offline maps take up a considerable amount of storage space, upwards of 100 MB per map. In an effort to preserve storage space on your device, downloaded maps will expire automatically after one month.
Downloading maps is easy. Here's how to do it:
Search for the map location you want to download
Tap "Download" on the place sheet
Alternatively, go to to "Offline Areas" in the main menu and tapping the "+" button.
If you have downloaded maps on your device, Google will revert to the saved versions automatically when it detects you're on a sub-par connection.
Store Busy Times
In addition to offline maps, Google Maps for iOS now has a feature you're likely familiar with from searching with from searching on Safari or Chrome – store busy times. Find out when stores are at their busiest so you can decide when is the most ideal time for you to go.
This information renders in the form of a bar graph, as shown below:
This information is automatically populated based on actual day-to-day foot traffic to the location.
Compare Gas Prices
Another new feature added to Google Maps is the ability to compare local gas prices simply by typing into the search bar: "gas prices in [your city]".
A list of gas prices and locations will then be shown: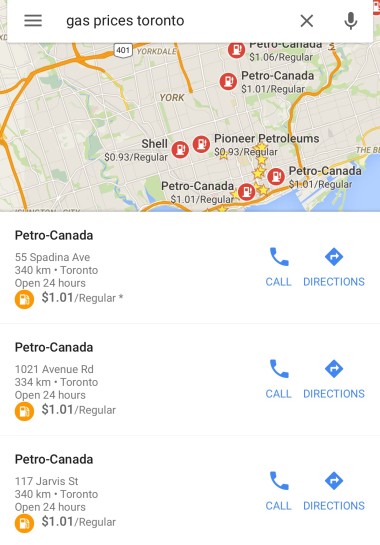 When it comes to comparing both the iOS and Android versions of Google Maps both are basically now on par, with each app including and omitting the same sets of features. All of these new features are available today by updating Google Maps from the App Store.
Screenshots taken on 14/12/2015 by author.
Featured Image Credit: Tsyhun / Shutterstock.com