The Official Google Blog has just put out an announcement regarding the new feature of Google Maps called Latitude. Although Google Maps Latitude was intended primarily for mobile devices since it uses GPS, you can also use it on your PC as an iGoogle gadget.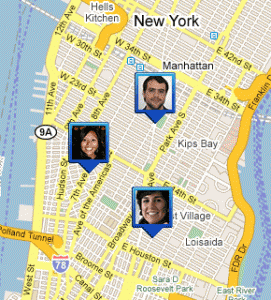 Google Maps Latitude is an opt-in service which will allow you to find out the approximate location of your friends or family members, provided that they have opted to share their location with you. It's a pretty useful service for parents and I could just imagine how their teen-age kids would react to this knowing that their parents would always know where they are.
Google Maps Latitude works with the following devices
Android-powered devices with Maps v3.0 and above. G1 users in the US will be receiving Maps v3.0 in a system update soon
Most color BlackBerry devices
Most Windows Mobile 5.0 and above devices
Most Symbian S60 devices
Yup, no iPhone yet and even Sony Ericsson mobile phones. But Google promises to offer the same service to those mobile devices soon.
If you don't have those listed devices (like me!), you may still use Google Maps Latitude through iGoogle Gadgets.