Google Maps has added a 'layer' of over 9000 Webcams so users can get live footage of different areas where they may be driving, working or visiting, as part of a collaborative effort with Webcams.travel
All the webcams from Webcams.travel are now available on the integrated layer of Google Maps. This was made possible within the cooperation of Webcams.travel with Google.
Here's an example of the White House webcam at 1600 Pennsylvania Ave, Washington, DC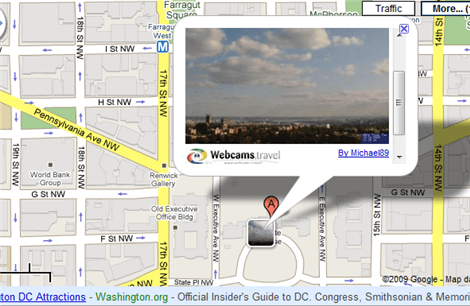 Alex Chitu at Google System adds :
If you click on a thumbnail, Google will show "a snapshot of the camera that has been taken in the last 15 minutes". You'll need to click on the snapshot twice (first at Google Maps and then at webcams.travel) to get to the source and see the live webcam.

Google Earth has a similar layer for geo-located webcams and there's an alternative interface at webcams.travel.