Google is expanding its shopping experience, letting users add items to a universal shopping cart from several of its services.
The new shopping experience lets users buy items while in Google Search, Images, and YouTube.
In addition, users can also shop from a brand new personalized homepage on the Google Shopping tab.
This was one of the more significant announcements to come out of Google Marketing Live on Tuesday, as Google Express is being replaced by the new Google Shopping.
"This year we're unveiling a redesigned Google Shopping experience with new, immersive ways for shoppers to discover and compare millions of products from thousands of stores. When they're ready to buy, they can choose to purchase online, in a nearby store and now directly on Google."
Say you're using Google Search to do some product research on a new set of headphones.
When viewing a product page in search results there could be a blue "Add to cart" button which would allow you to buy the item on the spot.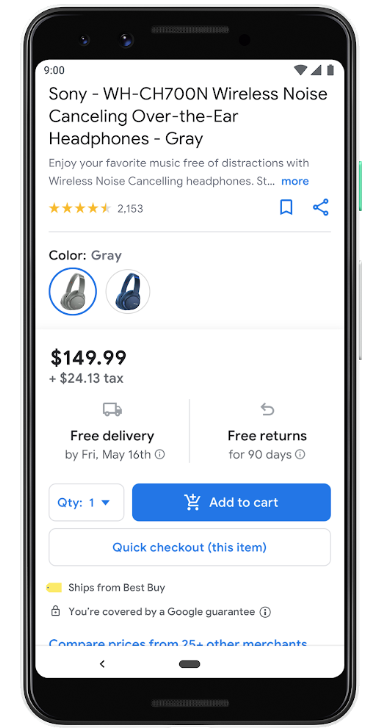 The "Add to cart" button could also appear when viewing a YouTube video about a product, or when viewing photos of a product in Google Images.
Users are not obligated to check out right away. Rather, they can continue adding items to the same shopping cart wherever Google's "Add to cart" button appears.
Google assures users that they can purchase confidently with simple returns and customer support, backed by a Google guarantee.
Products from Shopping Actions merchants will automatically be added to the new Google Shopping home page, as well as the new shopping experience in Google Search and Google Assistant.
Later this year, Google will expand Shopping Actions to more Google services including YouTube and Google Images.