Again, Google has launched a new service that will either please or scare you. It's Google's Latitude's Location History and Location Alerts. Location History tracks where you have been at any point in time, while Location Alerts notifies you whenever you are near a friends location – that way you can easily contact that friend and perhaps arrange a meet-up at a designated place.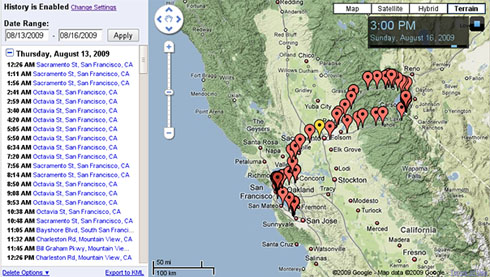 Google Latitude's Location History lets you store, view and manage your past Latitude locations. You can even visualize this on Google Maps or Google Earth for a more pleasant view of where you have been at some point in time. If you don't like this service, you can always delete it from your Google Latitude account.
Google Latitude's Location Alerts on the other hand uses your past location history to establish a pattern or routine of the places you've been, excluding your home or office locations. Alerts will be sent to you and any nearby friends when Latitude recognizes that you are an unusual place or routine at an unsusual time.
If you want to enable this feature, check out google.com/latitude/apps. Of course, you need to have a Google Latitude account to use this feature.