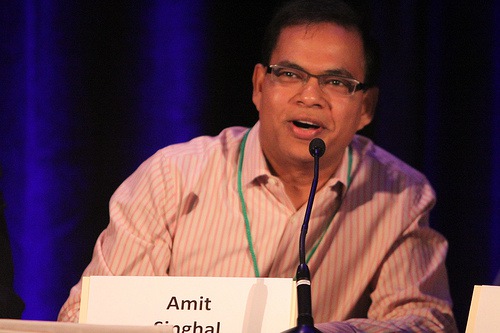 Jeffery Katz, a vocal Google critic and the CEO of Nextag, recently published an article in The Wall Street Journal claiming that Google is misusing its monopolistic powers to squash competing companies. In the article, Katz emphasized that Google currently holds 82% of the global search market and 98% of the mobile search markets, which constitutes an "effective monopoly" in terms of market share and revenue. Similar to his Senate Judiciary argument last fall, Katz claimed that Google is intentionally altering the algorithm to stifle the competition:
"Our data, which we shared with the Senate Judiciary Committee on Sept. 21, 2011, shows without a doubt that Google has stacked the deck. And as a result, it has shifted from a true search site into a commerce site — a commerce site whose search algorithm favors products and services from Google and those from companies able to spend the most on advertising."
Amit Singhal, Google's Senior VP of Engineering, quickly responded to Katz's claims with a blog post that said the following:
"As we've said many times before, we built search to help users, not websites. We don't make changes to our algorithms to hurt competitors. We make more than 500 changes a year (each one scientifically evaluated) in order to deliver the most useful results for our users – and we now publish a monthly list of algorithm improvements. Every one of those changes moves some websites up and some sites down in the rankings, but the most important thing is that users are happy with the results."
Singhal went on to reassure readers that Google is solely focused on producing relevant results and assured readers that Google does not show any type of favoritism towards other Google-owned properties. In addition, he wrote that Google users have alternative search engines and even encouraged people to use Bing, Yahoo, and several other choices if they are not happy with Google.
Do you feel that the free market is capable of regulating Google and the search industry or do the allegations of Google's competition warrant further investigation?
Sources Include: The Wall Street Journal & Google Public Policy Blog
Image used under Creative Commons from thekenyeung