Google is retiring its Trusted Stores program while introducing a brand new way to gain customers' confidence — verified customer reviews.
Wait, doesn't Google already have customer reviews in search results?
In a way, yes. Users have long been able to leave reviews on a business's Google listing, which are then displayed in search results. However, it would be more apt to call those "Google reviews."
What's the difference between "Google reviews" and "Customer Reviews"?
The key difference between the two review types are that "Customer Reviews" are verified to have been left by customers who have legitimately made a purchase from the business's website. Therefore, this review type is reserved only for businesses with an online store.
"Google reviews" can be left for any type of business, and can technically be left by anyone whether they're a real customer or not.
With "Customer Reviews", participating businesses can also customize the look of their badge, and receive more detailed insights:
"Google Customer Reviews offers more ways to customize the Google badge and opt-in on your site, better account management tools that save your time, and new insights into your seller rating."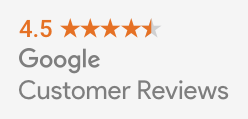 The service is completely free, all it requires is a Merchant Center account. A quick sign-up process will then allow you to have customers to opt-in to receiving an email survey after they complete a purchase.
The survey is designed for customers to review their buying experience, and the data will be used to help create a seller rating for your Merchant Center account.
Seller ratings can then be shown on Google Shopping, AdWords text ads, and your own website. According to Google, "Showing seller ratings on your text ads can boost your ads' click through rate by up to 10%."
Google Customer Reviews are currently available in the United States, France, Germany, United Kingdom, Japan and Australia.
Here's how to enable Google Customer Reviews
Sign in to your Merchant Center account (or sign up if you do not have an account).
Select "Merchant Center programs" from the dropdown in the upper right-hand corner.
Click "Get Started" in the Google Customer Reviews card and accept the Program Agreement.
Add the survey opt-in code to your website.
Once the opt-in code is added, you then have the option to add the badge code for display on your website wherever you want. The bade will display your seller rating, as well as indicate to customers that your store is integrated with Google Customer Reviews.