Google has introduced new capabilities for YouTube ads that will help advertisers drive more conversions.
The new features combine the creative solutions offered by YouTube with the machine learning and measurement solutions offered by Google Ads.
Ad Extensions
YouTube advertisers will soon be able to drive more conversions with a wider variety of video ad extensions.
In the example below, Google shows how a movie studio is using one of the new ad extensions to drive ticket sales.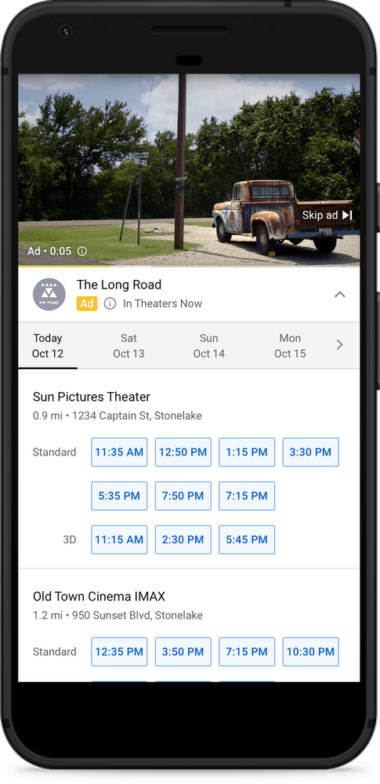 Other actions that can be taken from the new ad extensions include downloading an app and booking a trip.
These extensions will join the existing location and form extensions for TrueView in-stream ads.
New Measurement Solutions
Google is evolving its Brand Lift solution for YouTube ads in an effort to make it easier for advertisers to measure and act upon upper- and lower-funnel metrics.
Advertisers will soon be able to set up Brand Lift studies directly in Google Ads or Display & Video 360 and view reporting alongside other ad metrics.
Brand Lift studies will also be sent throughout the duration of an advertiser's campaign so they can understand how video ads are influencing viewer perceptions in near real time.
YouTube's Brand Lift studies will include two new metrics:
Lifted users: The number of people who were influenced by an ad.
Cost-per-lifted-users: Advertisers can use this metric to optimize their campaign's effectiveness and cost-efficiency.
Lastly, Google is ramping up investments in its Measurement Partners to ensure advertisers can measure YouTube media with measurement solutions that meet a stricter set of standards.