When you need instant answers to your search results, you'll never be bogged down by a slow connection again.
Google has announced a brand new, streamlined version of its mobile search interface that has been specifically designed to load fast on slow connections.
"To make sure you're not waiting on Google when you need it most, we've rolled out a streamlined Search results page that loads fast, even on those slow connections. You'll get all the info you need in a simpler format that's beautiful and easy to use."
Google's new streamlined mobile search will be used automatically when needed, so there are no settings for you to change on your phone's browser, and nothing new to download.
Google does not indicate what is considered a slow enough connection before the streamlined mobile search kicks in, so I guess your mileage may vary when it comes to
Also, what if you wanted the faster mobile search option all the time? Not that I mind Google's regular mobile search, but I wouldn't mind having less cluttered, faster loading search results now that the option is out there.
It doesn't look like there will be an option to manually switch back and forth between the two versions of mobile search, at least at this time, which is a shame because some users may prefer it.
Take a look at Google's new streamlined mobile search below: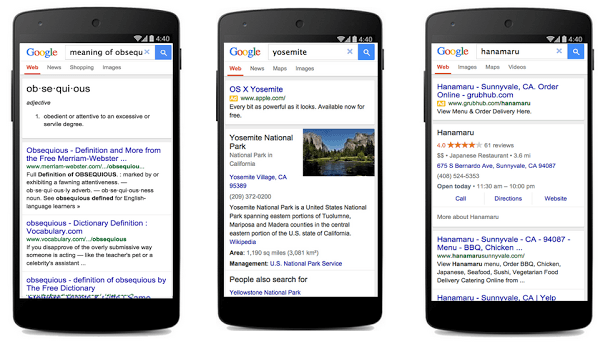 Some of the key differences appear to include: More space dedicated to organic results, no Google Maps integration, truncated quick answer boxes, and more streamlined ads.