Lyrics site Rap Genius was penalized by Google just before Christmas after being outed for a black-hat link building scheme. Rap Genius was looking for bloggers to publish links with keyword rich anchor text in exchange for tweeting out a link to the bloggers' websites.
Despite the founders issuing a public apology to Google they were still hit with a manual penalty for violating Google's Webmaster Guidelines by trying to artificially boost their rankings.
Rap Genius' penalty buried every one of their pages deep beyond the first page of Google's search results, no matter what keyword was being searched. Even searching for the name "Rap Genius" won't bring up their domain on the first page, just their Twitter and Facebook accounts.
Needless to say, this has had a profound impact on their search traffic. Quantcast shows nearly an 80% drop since the spam penalty went into effect: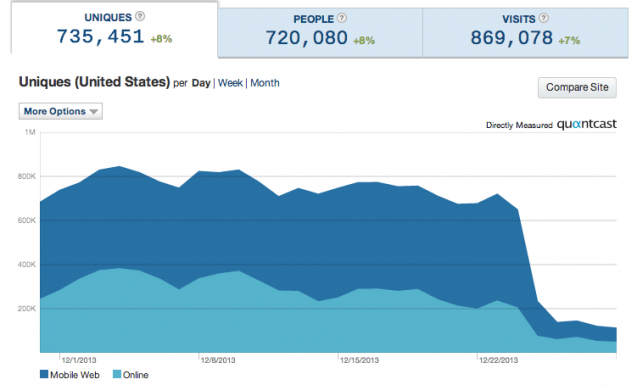 The founders of Rap Genius claimed they will stop the link scheme and suggested other lyrics sites are doing worse things:
We effed up, other lyrics sites are almost definitely doing worse stuff, and we'll stop. We'd love for Google to take a closer look at the whole lyrics search landscape and see whether it can make changes that would improve lyric search results.
There's no word on if Google has any intention to lift the penalty, or if they will be looking into the alleged techniques being used by other sites. One thing is for sure: follow Google's Webmaster Guidelines or they will take necessary action!