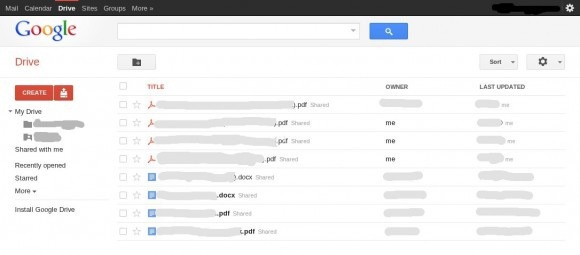 Although Search Engine Journal has been covering rumors related to the long-awaited Google Drive since 2006, it appears that Google's elusive cloud-based storage solution is finally getting ready to launch! According to a recent article by Om Malik of GigaOm, inside sources have confirmed that Google is planning to launch GDrive in early April. However, it is important to realize this is not the first time rumors related to the launch of Google Drive have surfaced and whether or not the search engine can actually follow through with the launch is still in question. In the GigaOm article Malik discussed Google's inability to launch GDrive:
"Google's online storage service, rumored to be called GDrive is the like the wolf in the fable, The Boy Who Cried Wolf. Well, after long history of false alarms, the storage drive might just see the day in early April, according to my well-placed sources familiar with company's plans."
If GDrive actually launches, the product will compete directly with the industry leader Dropbox as well as Microsoft's SkyDrive service. These services, which are well established, offer users 2 GB (Dropbox) or 25 GB (SkyDrive) of free storage. Even though Google will face fierce competition from these dominant players, the inside source has indicated that Google plans to offer users a measly 1 GB of free storage space.
While the GDrive is launching long after the competition, the native syncing functionality combined with the ability to easily share files by simply providing a link will be appealing to some users. In addition, the pricing, which is currently $5 per year per 20 GB for Google's other services, should help Google win over the budget conscious consumers and businesses.
When the new Google Drive launches, do you plan on giving the new service a chance or are you satisfied with your current cloud-based storage solution?
[Sources Include: GigaOm]