Google's expansion of running AdSense style display ads across its own network has seen new ads within Google News, Google Image Search and other Google properties. Now Google has added Google Finance to the mix, serving up display ads powered by Google Display Ad Builder.
"Google Finance is a great opportunity to reach a relevant audience while they engage with financial content. You can use the AdWords placement targeting tool to target Google Finance like any other site on the content network, with the exception of third party ads. "

Austin Rachlin of Google Adwords also notes that the new Google Finance targeted display advertising can use new display ad templates that have been made specifically for Google Finance, with predesigned finance templates complete with charts and "Invest Now" calls to action.

One fear here and reason Google should be restricting ads to a controlled display environment is to keep misleading ads out of Google Finance, which has become a stock and investment research area within Google for investors. Given that investing is such a personal manner, we wouldn't want Google to pull a Mad Money Cramer and start serving affiliate ads, Forex trading ads and misleading investment tips to its users.
Here's a responsible example of a current Google ad in GOOG's Google Finance page for Google advertising itself :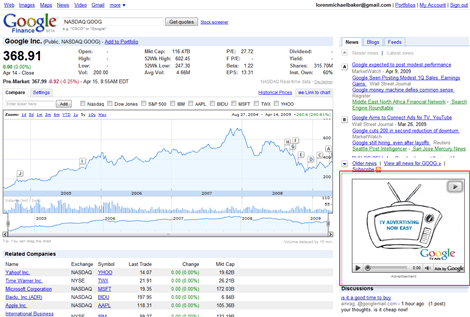 Here's a less responsible example of Google serving a rather strange ad for a Google Finance search for "YHOO" :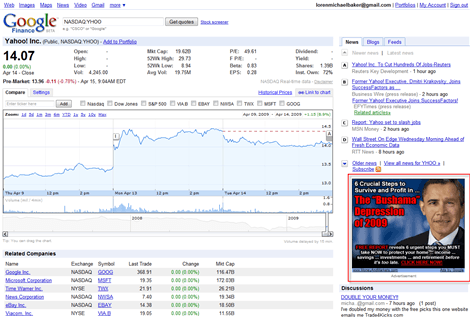 On the other hand, the calls to action by Google Display Ads and pinpoint targeting can also bring in more revenue for Google, which has been trimming operating expenses and aggressively building its contextual ad network within its own properties, and beyond.