Google is now letting Local Guides add videos to Google Maps with their iPhones.
Previously, adding video to Google Maps as a Local Guide was only possible on Android phones.
The ability to upload videos to Google Maps was introduced last August, so it took a year to bring the same functionality to iPhone users.
This information was sent to members of Google's Local Guides program today via email.
The email reads:
"Great news: Local Guides can now add videos on Google Maps with iPhone! Show off your favorite places in motion, from bustling outdoor markets to sizzling restaurant dishes–the possibilities are endless."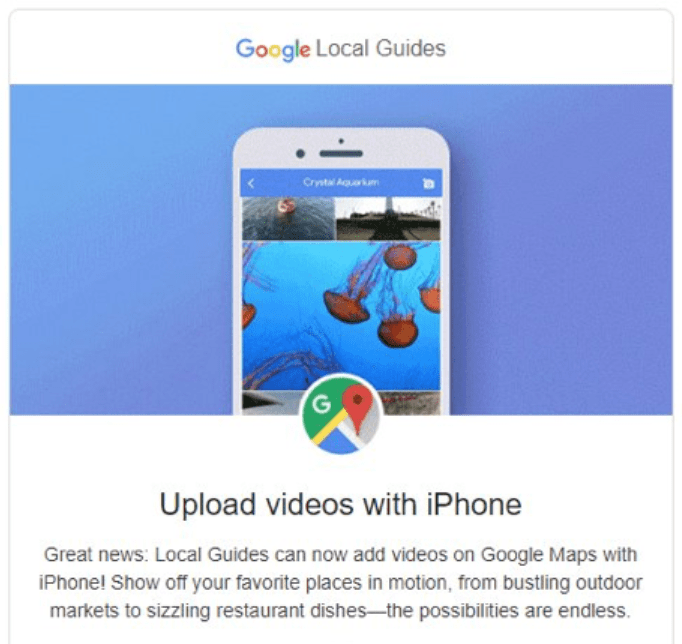 Anyone can join the Local Guides program, which gives points to users for contributing content such as reviews, photos, and videos to local listings.
Earning points allows users to level up, which unlocks perks such as free Google Play Music subscriptions, and discounts on the Google Play Movie store.
Of course, it's always possible to contribute content to Google Maps without being a Local Guide, it's just an added incentive.
Local Guides can upload videos to Google Maps by following the steps below:
Take a video of a place with your iPhone
Search and select that location on Google Maps
Scroll down and tap "Add photos or videos"
Select the video from your camera roll
Tap "POST" and you're done
Google notes that only the first 30 seconds of a video can be uploaded.
Local Guides earn 7 points per video added to Google Maps, which makes it the third most valuable contribution behind adding reviews and places.