Google Feed is getting updated with a new name, a new look, and new features.
Going forward it will be known as 'Discover,' which Google says is a more accurate reflection of what it's designed to do. Which is helping users discover fresh and interesting content.
With this overhaul, Google has designed Discover to show users the content they want to see before they even begin looking for it.
New Look
The most notable design changes in Discover include:
Topic headers: The header section will explain why a user is seeing a particular card, which may incentivize further exploration.
Discover icons: Next to each topic name is an icon that users can tap to follow that topic. These icons will also appear in search results.
Control icons: An icon in the bottom right corner of each card lets users control how much they want to see of a given topic.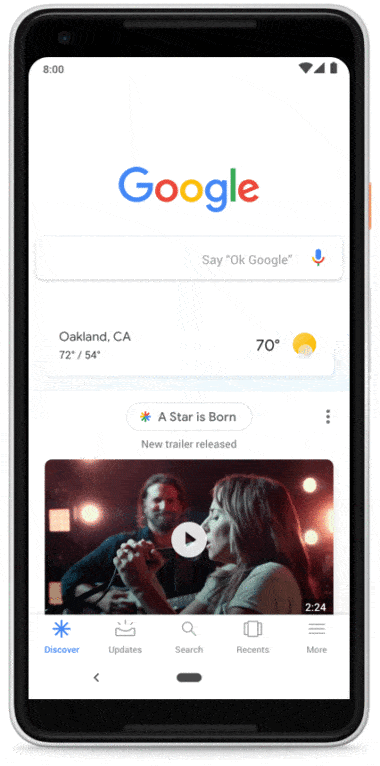 More Content
In addition to surfacing fresh content, Discover will also recommend evergreen content.
That means users will see content that's not new to the web, but it's new to the individual who is viewing it.
"For example, when you're planning your next trip, Discover might show an article with the best places to eat or sights to see. Suddenly, a travel article published three months ago is timely for you. This can also be useful as you're taking up a new hobby or going deeper on a long-time interest."
Google will predict one's level of expertise on a topic and tailor content recommendations accordingly.
This will be accomplished using the AI advancements announced today at the company's Future of Search event.
Greater Presence
Until now, Discover/Feed has only existed in the Google app.
Although, even with a limited audience it has grown to serve over 800 million monthly active users.
Soon it will also be available on google.com on all mobile browsers.
This rollout will occur over the next few weeks.