During Pubcon last November, Google's Gary Illyes, warned that featured snippets would be volatile because Google was actively developing the algorithm.
It isn't uncommon to lose an featured snippet you've earned for a certain search query, only to get it back within a 24-hour period – even if you've done nothing to optimize for featured snippets.
So just how volatile are featured snippets in Google search right now?
A new study from Stone Temple Consulting attempts to answer that question. It also reveals which websites tend to get the most featured snippets, both on desktop and mobile.
The State of Google Featured Snippets in Search
The study, which examined the variability of results of 4,999 search queries over 124 consecutive using STAT Search Analytics, found a high amount of featured snippet "churning" and predicts we will continue to see continued volatility in the near future.
For instance, for 1,092 desktop keywords, Google used content from two different domains. For 318 desktop keywords, Google pulled featured snippets from three different sites.
According to the study:
"The keyword that showed the most variability was, 'what is day student tuition.' During the course of the study we saw 12 different domains used to provide the featured snippet for this keyword. This keyword also went 8 days without any featured snippet."
Here's the breakdown: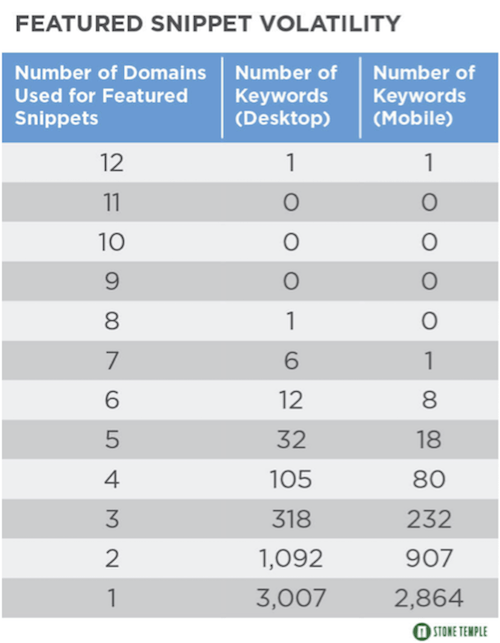 Overall, 4,490 of those 4,999 queries showed a featured snippet on desktop (3,937 on mobile) at least once during the 124-day testing period.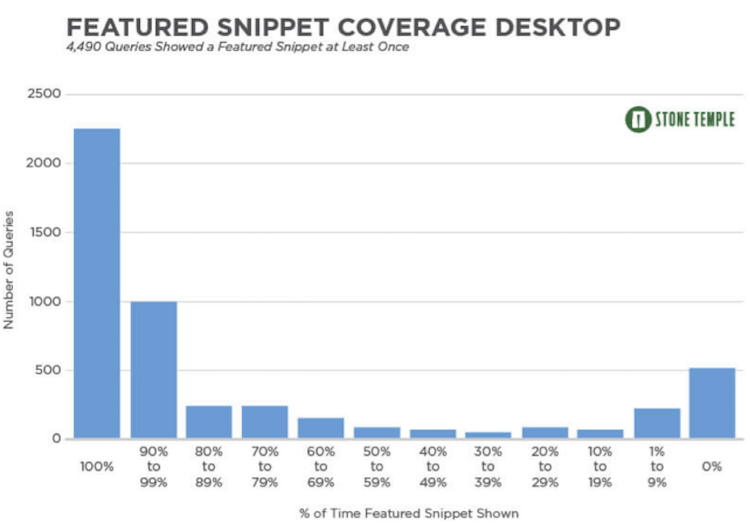 In other interesting findings from the study:
425 keywords never showed a featured snippet on desktop.
888 keywords never showed a featured snippet on mobile.
1,567 of the keywords on desktop used more than one site for returning a featured snippet.
These Websites Get the Most Featured Snippets
Would you be shocked if I told you Wikipedia has earned the most featured snippets from Google? Well, you shouldn't.
Wikipedia earned 40 percent of featured snippets on desktop and 36 percent on mobile.
These findings align with a study STAT Search Analytics did in 2016.
Nine of the top 10 biggest sources of featured snippets for Google – Wikipedia, Biography, Britannica, YouTube, IMDb, Quora, WebMD, Drugs.com, and Investopedia – were the same on desktop and mobile, although those nine domains appeared in different order, according to Stone Temple's study.
Here's the breakdown: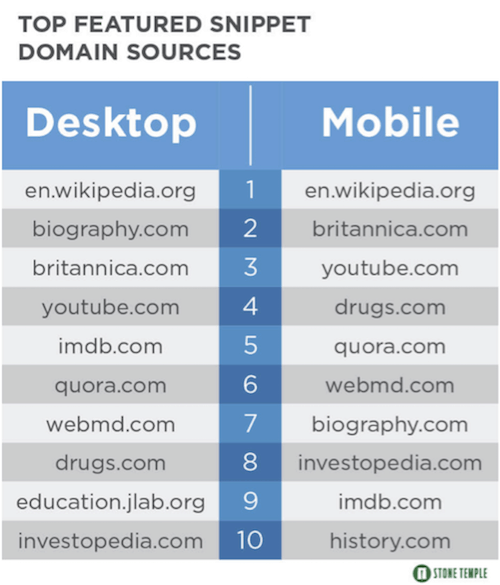 These domains accounted for 47 percent of all the featured snippets on desktop and 41 percent on mobile.
The study also looks at how Google is using the Knowledge Graph in search results.
Click here to read the full Stone Temple study.
To learn more about earning featured snippets, check out: Google's John Mueller on Ranking for Featured Snippets.
---
Image Credits
Featured image: Shutterstock, modified by author
All in-post images via Stone Temple Consulting, used with permission