So aside from real-time search, Google is also embarking on a more ambitious and yet a possibly useful feature, this time for its mobile search service. These new features will allow you to do mobile search by voice, location maps and visual imagery.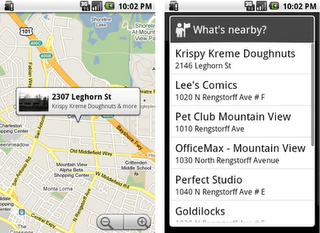 Mobile Search by Voice – This mobile search was introduced last year, and after a successful run, Google is now making this feature available in several new languages including – Japanese, joining English and Mandarin. In the long-run, Google hopes to combine voice recognition-powered search with Google's translation service.
Mobile Search by Location – What's Nearby feature is being rolled out for Google Maps running on Adroid 1.6 devices. This feature gives you a list of the ten closes places to your current location. This feature basically answers the perennial question "What's around here, anyway?"
Mobile Search by Visual Images aka Google Goggles – Now it the most ambitious feature among the three new features of Google mobile search. Supporting again Android 1.6 devices, Google Goggles lets you search for objects using images rather than words. So, you just need to take a photo of any object you encounter in real-life and if Google recognizes it will return relevant search results. Google Goggles currently supports landmarks, works of arts and products.
These new features are pretty exciting indeed. If only they will be made available for other devices such as the iPhone. Or perhaps, these could be good reasons to get an Android phone now.