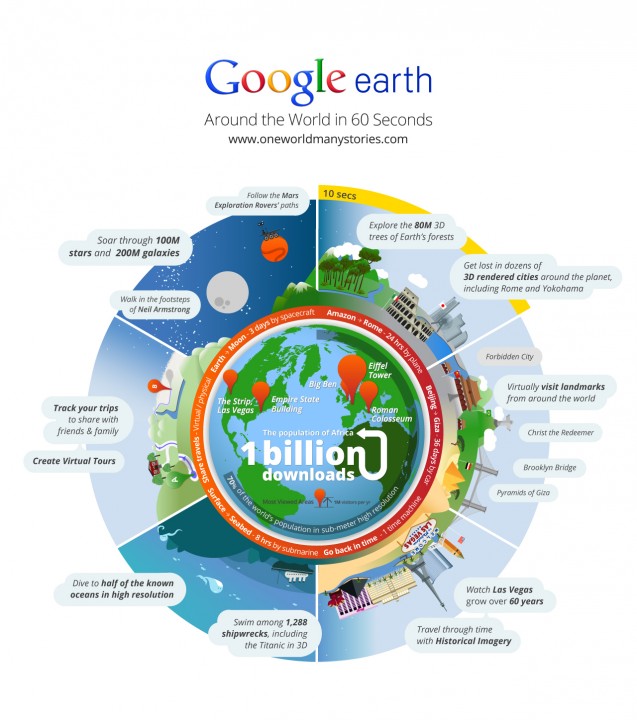 Earlier today, Google announced that Google Earth has been downloaded one billion times since it was released in 2005. This number, which includes desktop clients, mobile apps, and the Google Earth plug in, makes Google Earth one of the most downloaded applications of all time. To emphasize the enormity of the number one billion, the post pointed out that a billion hours ago humans were still living in the Stone Age and a billion minutes ago the Roman Empire was the dominant world power.
Google Earth and Maps vice president of engineering Brian McClendon said the following of the one billion downloads achievement:
"We're proud of our one billion milestone, but we're even more amazed at the way people have used Google Earth to explore the world. When we founded Keyhole, Inc. back in 2001, we never imagined our geospatial technology would be used by people in so many unexpected ways."
McClendon, who co-founded the startup Keyhole in 2001, has been a part of Google Earth since its inception. In 2004, Google acquired Keyhole and launched a free online earth atlas the following year.
To celebrate the one billion download milestone, Google Earth introduced a new website called One World Many Stories and released a video detailing the accomplishment. The site, which highlights the many ways people have used Google Earth, features a timeline of Google Earth to enable site visitors to travel virtually to featured destinations as they read the stories.
Since Google Earth launched in 2005, it has been used for everything from killing time while bored to aiding rescue and relief organizations in the aftermath of the tragic Haiti quake of 2010. Although Google Earth has reached the one billion download mark, it continues to add innovative features and encourage new uses for the service.
[Sources Include: Google LatLong Blog, One World Many Stories, & AFP]