If you can't beat them (or don't feel like putting out the cash to acquire them), then join them! Google has implemented a new Digg style social voting platform in iGoogle which could be a glimpse of an overall Google run Digg style content sharing network, and may signal that Google might not have any interest in acquiring Digg.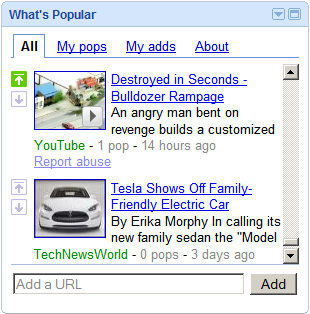 Google has launched their new iGoogle gadget, "What's Popular" which has only been installed by 2,889 users thus far. Google's "What's Popular" lets users "pop" stories which they find interesting in Google News and beyond. The iGoogle Widget lets users read and vote on "All Popular" as according to Google, My Pops – which are stories that have been voted on by the users and "My Adds" – stories added by the user.
Google also offers a canvased version of the tool, with its standalone page, here : Google What's Popular?
At first glance it looks like What's Popular is using a mix of personal relevancy, voted "Pops", and timely posts to serve up the default listings on its What's Popular? page.
Here is an explanation from Google :
How we find interesting stuff
What's Popular uses algorithms to find interesting content from a combination of your submissions and trends in aggregated user activity across a variety of Google services, like YouTube and Google Reader.

Ratings
You can rate items that you like or dislike by clicking the ratings buttons next to each item. If you change your mind, you can change your rating at anytime. The What's Popular gadget looks at what users liked or disliked to improve its ranking of interesting items.
Users can filter the stories based on date, popularity and relevance and in addition to stories, videos and images can be added. Without much of a social aspect, calling "What's Popular" a Digg competitor could be a stretch, but the voting and bookmarking is made easy and very Digg -like by the iGoogle gadget.
With Google slowly rolling into social, via OpenSocial, Friend Connect and of course GTalk; something could be added soon if this gadget takes off. Perhaps though, the social aspect is already part of the algorithm, as Google generally has an idea of the verticals or information its users enjoy, and which other "friends" visit the same webpages and fall within similar profiles.
I especially like the usage of the usage of "What's Popular" as a planner for daily reading, as stories and media could be submitted or "popped" in the morning, and then be read on the iPhone or mobile device during a daily commute.