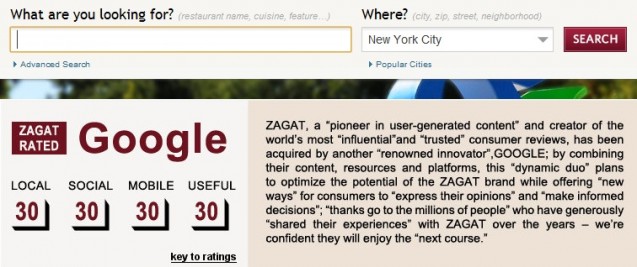 Earlier today, Google announced the acquisition of the prestigious restaurant-rating organization Zagat for an undisclosed price. Zagat, which rates restaurants on a 1-30 scale, has collected consumer surveys and reviews for restaurants in over 100 major cities around the world. Google executive Marissa Mayer stated that Zagat will become a "cornerstone" for Google's local services division in the near future.
Although there is already speculation regarding whether or not Google will continue to publish the paper guides, the following quote indicates Google's intentions to digitalize and mobilize the content previously found within the paper Zagat guides:
"Their iconic pocket-sized guides with paragraphs summarizing and 'snippeting' sentiment were "mobile" before "mobile" involved electronics."
Google is expected to incorporate the information from the numerical 30 point rating scale as well as the existing reviews into Google search and maps results. In addition, one can expect that Google will attempt to encourage ongoing participation and review activity from active Zagat and Google users. Google's reviews have lagged behind other popular services, such as Yelp, which Google reportedly attempted to purchase for a sum of $500 million in late 2009. In order for Google to fully monetize their local/maps division, they must go head-to-head with major restaurant review sites such as OpenTable and Yelp.
Zagat's founders, Nina and Tim Zagat, have indicated that they will remain active in the business and hope to maximize the company's future growth and continue the tradition of product quality. It will be interesting to watch if Google can use Zagat to produce large quantities of user generated content and then leverage that data to further monetize the Google local services division.
[Sources Include: Zagat, Google Blog, & InvestorPlace]