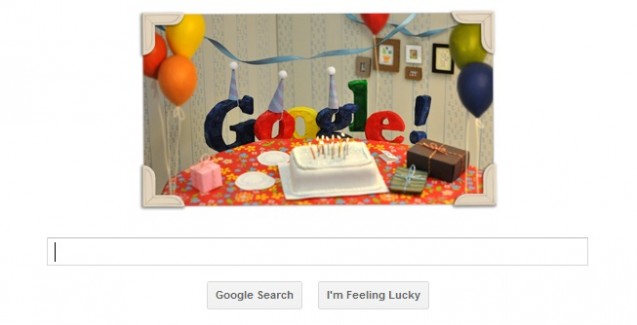 Today, Google's homepage is featuring a Google doodle with the Google letters celebrating Google's thirteenth birthday. The doodle, which is not animated and has a simple design, continues the search giant's low-key approach to birthdays.
Although Larry and Sergey began working on the "BackRub" search engine in January of 1996 and registered the domain name Google in 1997, Google celebrates its actual birth as September of 1998 – the date of the company's incorporation.
Until 2005, Google celebrated its birthday each year on the anniversary of its incorporation, September 7. However, in 2005, Google changed the date of its birthday to September 27 so the celebration would coincide with an announcement regarding the record number of pages they were indexing. Google says the following regarding when they celebrate their birthday:
"Google opened its doors in September 1998. The exact date when we celebrate our birthday has moved around over the years, depending on when people feel like having cake."
During the past 13 years, Google has grown from a small privately funded startup to a gigantic publicly traded corporation that has become a dominant technology force with a reach far beyond search technology. Now, instead of battling Ask Jeeves, HotBot, or Lycos for a small share of search traffic, Google owns approximately 65% of the US search volume and 90% of the worldwide search volume. Google has become a household name and one of the few companies worldwide that has influenced the lives of billions of people.
Happy 13th Birthday Google!
[Sources Include: Google & The Guardian]