It's being reported that Google will be prohibiting advertising on YouTube's Masthead from specific verticals. These restrictions come on top of existing restrictions on many of these same verticals.
The affected verticals that are known so far are:
Alcohol sales
Gambling
Prescription drugs
Election and political ads
Example of a YouTube Masthead Ad for a Desktop Device
YouTube Masthead Advertising
YouTube's masthead advertising unit is ad appearing at the top of the YouTube home page.
The Google Ads Help page describes this unit like this:
"This is a video ad that appears at the top of the YouTube homepage.

The YouTube Home feed is a very important destination for viewers, and the Masthead ad allows you to be first and foremost in that home experience.

Buying a Masthead ad means targeted reach across a campaign with budget and frequency controls. Masthead ads bought are available on YouTube across desktop, mobile apps, and the YouTube app for TV."
Example of YouTube Masthead Ad for a Mobile Device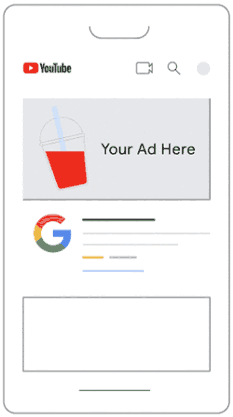 The masthead advertising unit is shown to the YouTube home page site visitors and is subject to stricter advertising policies.
For example, advertisements targeting the YouTube masthead are subject to at least 48 hours advance approval. Prospective ad units must be approved by a Google sales representative 48 hours before being allowed to be displayed.
According to the Google YouTube masthead policy:
"Masthead ads are only available on a reservation basis through a Google sales representative."
Masthead ad units must also abide by existing policies regarding sensitive verticals.
Example of YouTube Masthead Ad for a TV
The masthead is noted by Google to be relevant for advertisers for these purposes:
"Drive massive reach or awareness
Plan their buys in advance and don't want to rely on auction
Show off their brand or service in a prominent space in the YouTube Home Feed"
New Restrictions for Masthead Advertising
Axios is reporting that there will be new restrictions on specific verticals.
According to the report:
"YouTube will stop accepting ads for its masthead ad unit from certain verticals, including alcohol sales, gambling, prescription drugs, and election and political ads, Axios has learned."
The stated reason for restricting these verticals from masthead ads is to improve the user experience.
These verticals are already restricted in that they can be advertised but with limitations. The masthead restrictions placed on these verticals represent a tightening of existing restrictions.
Restrictions Not Entirely Unexpected
Search Marketing and PPC Expert Kenny Hyder (@kennyhyder) of Hyder Media expressed surprise that those verticals weren't already prohibited.
He remarked,
"I am surprised it took this long, those are standard categories with policy restrictions. Especially considering that YouTube has a sizable child audience, I think it should have been done a long time ago."
I agree with Mr. Hyder that these restrictions aren't entirely surprising.
He added,
"It's probably just that more and more advertisers are starting to utilize video creative and they needed to catch up. Those topics are already restricted heavily on all other Google platforms."
Citations
Scoop: YouTube to Ban Some Ad Verticals from Buying Masthead Ads