Moz published a report today containing data which shows a significant jump in the appearance of Google's Quick Answer boxes. The jump initially began last week, but went relatively unnoticed in light of the Panda 4.1 rollout getting all the headlines.
According to Moz, their data includes all types of answer boxes including direct answers, stock quotes, weather forecasts, box scores, and new, attributed answer boxes. After analyzing the data, it was found that the attributed answer boxes were the ones showing up more frequently.
All Quick Answer boxes are appearing up to 44% more frequently, while the attributed answer boxes alone are appearing 98% more frequently. You may have seen those in the search engine results pages as answers that are extracted from 3rd-party websites, such as Wikipedia.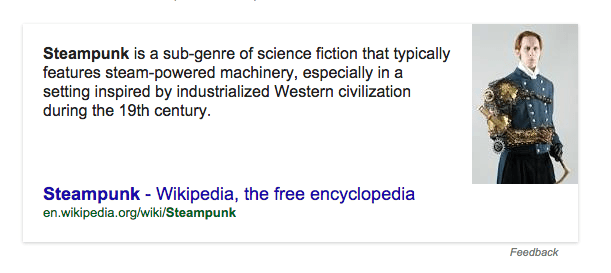 Moz sums up their findings by saying "this clearly represents a significant expansion in Google's ability to extract and display answers."
If you wanted to see more of these answer boxes in action, here are the top 10 queries bringing them up right now:
global warming
mba
steampunk
dsl
triathlon
pollution
firewall
activex
vegan
project management
Moz adds that quite a few of the new answer boxes are extracting data from Wikipedia, and now also have the ability to extract images as well like you see in the example above.
Dr. Peter J. Meyers of Moz points out that several of Google's quick answers are either inaccurate, out of date, or low quality answers. At this point no one outside of Google can do anything to improve them. Meyers also cautions that Google's Knowledge Vault is going to continue to grow and potentially draw more traffic away from sites with quick answers.
Have you been seeing Quick Answers more often? Are you concerned about them impacting traffic to your site? Weigh in on this in the comments section.