This is the second part of the announcement made by Google Analytics a couple of days ago regarding benchmarking and opt-in settings. The latest enhancement to Google's Analytics is the integration of the Analytics to Audio ads.
With this new feature, Analytics users who implement audio ads in their sites would now be able to see how their campaign metrics for impressions, ad plays, markets and CPM correlate with their website traffic data. These include conversion, revenue and transaction data. Simply put, this would enable Analytics users see if their Audio Ads campaigns are bringing any traffic at all to their websites. In measuring audio ads performance, Google Analytics plot the number of times an advertiser's audio ads have been listened to by users against the number of times those lead to users actually visiting the advertiser's site.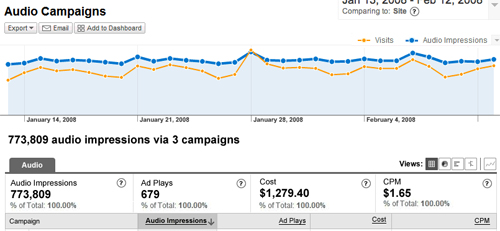 Measuring the benefits of audio ads vis-à-vis traffic conversion is definitely a useful tool for website owners. This would pretty much determine the viability of the radio format for implementing site advertisements.
Google Analytics for Audio Ads is currently available for U.S. users only. It will only appear in the Google Analytics accounts of users who have linked their AdWords and Analytics accounts