One week ago the Google Affiliate Network (GAN) announced they would be shutting down their platform in the upcoming months. Since then, the affiliate industry has experienced an unprecedented migration of affiliates and merchants looking for new networks to continue their marketing efforts on.
Google's reasoning behind the closure was to allow them "focus on other products that are driving great results for clients" but also stated that that all parties involved in the network will continue to provide support for customers as they start to wind operations down. Here's the timeline for the shut down:
Merchant services will shut down on May 1st
Affiliate (publisher) services will end on July 31st
All reporting and tracking will be permanently discontinued on October 31st
With the first two deadlines approaching quickly, GAN clients are scrambling to transfer their affiliate marketing efforts over to other networks, which has left the affiliate marketing industry in an unexpected position. Because Google has opted to simply close it's doors and discontinue services to their clients, competing affiliate networks are reporting an incredibly sharp influx of both merchants and affiliates joining their platforms to avoid the shutdown deadlines above.
Of course, many competing affiliate networks have tried to capitalize on the GAN's departure by flooding these migrating affiliates and merchants with special deals and joining incentives, while other networks have opted to give GAN clients space and stay out of what one network referred to as a feeding frenzy.
Prior to last week, Google gave little, if any, indication that the network's shut down was something even being considered. The GAN Google+ page has been actively updated with new programs their affiliates could join- the most recent of which was launched just one day before the shut down was announced- and Google was even being represented at the AM Days affiliate marketing conference in San Francisco, speaking on the role of the affiliate network in the future. After the announcement, GAN was taken off the list of networks participating on the panel, although a copy of the original agenda can be found on The Wayback Machine.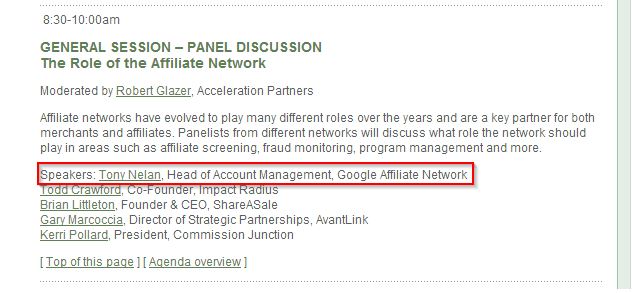 Have you been affected by the closure of the Google Affiliate Network? If so, let us know how you're planning to react to the shut down in the comments below.