Google announced a series of updates to click-to-call ads this week, including a new design, new reporting capabilities, and account-level call extensions.
Account-Level Call Extensions
Soon advertisers will be able to set up call extensions on a larger scale with account-level call extensions. Rather than implementing call extensions at a campaign or ad group level, advertisers will be able to implement them across their entire account. This update is slated to roll out at some point this week.
New Design for Click-to-Call Ads
A new design for call-only ads will see the business name appended to the phone number. This design began as a test last year and will now be rolling out to all advertisers globally. Google will continue to test new designs for call only ads, including the addition of caller satisfaction ratings.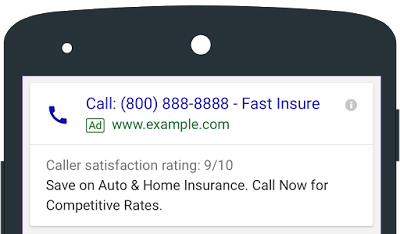 New Details in Keyword and Ad Copy Reports
New details will soon be added to the keyword and ad copy reports. The additional details include columns for "Phone impressions" and "Phone calls", which are designed to give advertisers a more holistic view of call performance. With these details advertisers will be able to more easily identify areas where they need to improve.
"For example, consider using call-only ads on keywords with the highest phone-through rates, or decreasing wait times when you have customers on the phone to improve call conversion rates."
Google also reminds that automated call extensions will be rolling out in the coming months.