Google is introducing new ways for AdWords users to collect more data about their audience to better optimize their campaigns.
Google AdWords has been integrated with Google Surveys 360, and integration with Google Optimize will be rolling out in the coming months.
Google Surveys 360
As of today, remarketing lists in AdWords are available for targeting in Surveys 360. Now, business owners can deliver surveys to people in their remarketing lists to learn more about audience behaviour.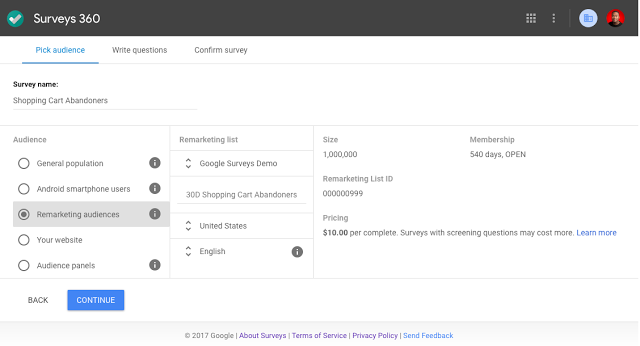 "Want to know why shoppers abandoned their shopping carts? Ask them! Curious about how many customers converted due to your new free shipping offer? Ask them!"
Google generally recommends asking questions about why users in a remarking list did or didn't convert, and then using that information to make adjustments to your marketing messages.
Google Optimize
The upcoming integration between Google Optimize and Google AdWords will give marketers the ability to more easily create and test custom landing pages. Landing pages can be customized based on the keyword, ad group, or campaign associated with an ad.
Google gives an example of how this will benefit advertisers:
"Suppose a hotel wants to improve its landing page for the keyword family friendly hotels. Using Optimize, the hotel can create and test a new variation of the landing page, one that features an image of a family enjoying themselves at the hotel pool, instead of a generic image of the hotel exterior. If the new page leads to more reservations, they've got a win."
AdWords' integration with Optimize and Optimize 360 will be available in the coming weeks.