Google today took their Adwords for Video program out of beta and announced their "official" launch, integrating their paid search advertising model with video content, whole new ad formats, and bidding models. While I certainly commend Google for their goal of making video advertising available, affordable, and measurable for everybody, there are two things I believe should have done differently to get more businesses involved with the new video ad program.
#1 – Allow for a Custom Thumbnail and Intro Image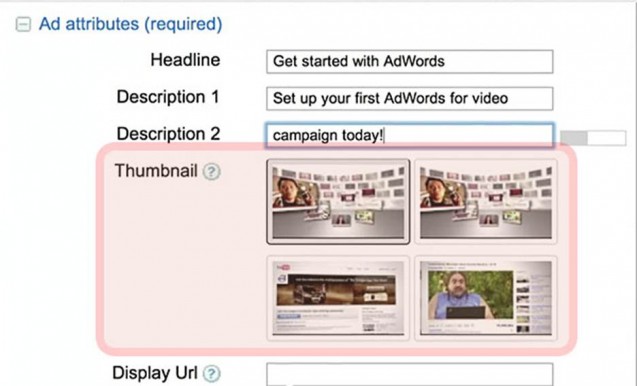 A Google Adwords video campaign gives you 4 pre-set images to choose from for your choice of default thumbnail image and video player image. While that's better than what's been the default for non-partner YouTube accounts (which only allow 3 – one from the beginning, middle, and end of the video), there is certainly no guarantee that you'll get the image that best represents your advertisement. Since Google already announced that they were opening up their partner program to everyone (so even regular users can choose custom thumbnails for their YouTube "Promoted Videos" program), it would have made good sense that they extended this same feature to all Google Adwords account holders as well.
Google could have also done what Vimeo is already allowing their users: Upload a custom thumbnail image for their ads. Even better yet, they could have gone one step further: provide the same feature that professional video platforms do – let users upload a custom thumbnail image and a full-size image (for the video player). Images that are optimized for both thumbnail size and the full video player could be far more eye-catching and draw more clicks to them than what a typical video frame could provide. (We've already learned that from Pinterest, haven't we?)
#2 – Extend the $75 ad credit to ALL Adwords users
Google has announced that they're offering $50 million in free advertising to 500,000 companies, with a $75 credit for individual new Google Adwords account holders. What I don't understand is, why not include it for everyone, since the program is new for everyone? I assume it's because Google hasn't figured out how to section the credit to be applied for just new video ad program. Nevertheless, it's a huge oversight on Google's part when you consider that that people who are existing account holders already have some degree of customer loyalty; and they be just as likely, if not even more so, to be motivated to do the Adwords for Video program if offered the same credit incentive. Unfortunately I think Google is placing too much emphasis on program's success to be based on signing up new accounts, rather than overall participation.
Credit or no credit, I do think the Google's new Adwords for Video is a great opportunity for businesses to take advantage of. It's simple to set up, affordable, provides increased reach and better targeting, and impressive new analytics for measuring video engagement and click-through performance. Google is to be commended for committing to video as viable advertising and marketing solution for everyone who's commercially and professionally minded.