I hope this article encourages people to look at testing different AdWords strategies as it is important to trial new methodologies using parts of your campaign to ensure you clients stay ahead of the competition. The first point is I personally feel any method you read such as over bidding on keywords to kill off competitors profitability is unethical and based on my research not great for your campaign ROI.
It is important that you understand that you need to start thinking of AdWords like you do with affiliate marketing with a focus on measurement, testing everything, conversions and campaign ROI not just total impressions or clicks. It is important to know that what might be working for a competitor or a client in a similar industry may not always perform as well in another campaign so measure, test and record everything to examine later.
Bid Management Theory?
One of the theories I wanted to test was about using Google AdWords inbuilt bidding engine focusing on clicks versus focusing on conversions instead of a bid management package. There had been some interesting feedback about the improvements to the platform to use automatic bidding to try and maximise clicks & conversions within your target budget but would it offer suitable ROI?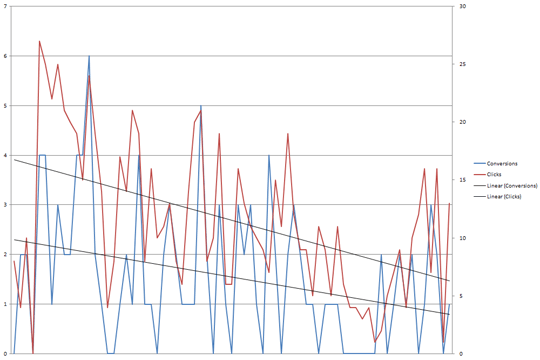 The first issue and limitation is that if you select automatic bidding you cannot use ad scheduling which means you will not be able to only show your ads at the best converting times. As you can see in your Google Analytics data that most of your conversions occur between a certain times or only on certain days but you have no control on day parting optimisation if you use automatic bidding.
I wanted to ensure that this campaign was run with a focus around conversion rates and decent ROI so early in the test I enabled the use of enhanced CPC which was meant to use conversion tracking data and bids to optimise the campaign for ppc conversions. I later discovered this had much less of an impact on the campaign than I expected so maybe the enhanced CPC algorithm needs a tweak or you should take its functionality with a grain of salt and stick with a bid management platform.
Focused on Clicks
As my initial bid test focused on clicks the data recorded the highest share of impressions of any of the bidding tests with only 54.4% impressions lost due to low CPC bid rates. This was because we ran the campaign with a slightly lower an average position of 3.9 but this was also far higher than the campaign average of 4.63 but could have been higher. The focus on clicks campaign had an average CPC rate of $2.49 which was far higher than the campaign average of a $1.83 and much to high for the current campaign. The higher CPC rates was almost perfectly matched to a similar increase in CPA rates which show that over bidding on keywords doesn't always impact conversion rates but can kill ROI if you are measured on CPA rates. The graph below shows how the trend which while reducing the potential audience exposed to the AdWords also reduced the costs in a parallel trend.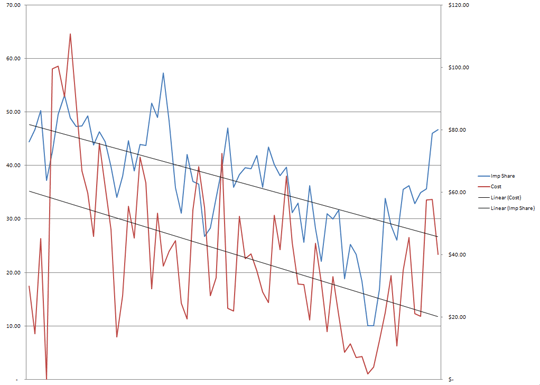 The graph below shows that the sweet spot for bid rate for position appears to be around $2.08 and a bid position of around 3.9
The graph below also shows that the sweet spot for the largest share of impressions is for an average position of 4.7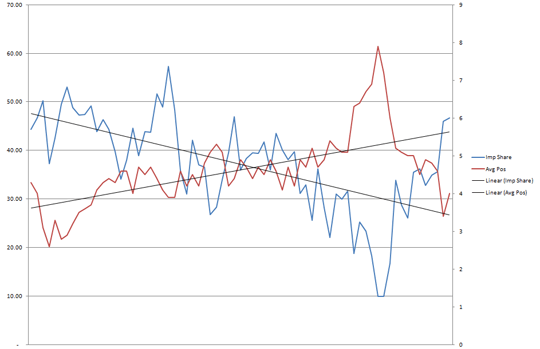 The first negative point I noticed that when running the campaign on automatic bidding I discovered that the CPA rate was far higher at around $26.83 partly due a lower conversion rate of 12.41% compared to the average conversation rate of 13.45%. While the main impact of Auto Bidding was that your AdWords campaign will be shown higher in the search results and more frequently you have to watch that it doesn't also results in 36% higher CPC rates which will dramatically impact on your campaign ROI.
AdWords Auto Bidding Sux
So it appears that while using Google AdWords internal Auto Bidding can make AdWords campaign management easier but even when dealing with reasonable conversion rates is not advised for extended periods of time as you will likely be over paying for conversions. It was also interesting to confirm that for this client a dramatically higher ad position doesn't equate to a better ROI campaign as cost outweighs any traffic benefits so with the 37% higher CPA rates if this was not changed it would be enough to sink this campaign and it was switched off. The only caveat is that there is a direct link between higher impression share and number of conversions but this campaign data was also skewed due the competitive industry I targeted a lower average Ad position compounding the impact on number of total possible conversions.
The graph below shows a link between as the average AdWords big position the number of conversions also falls but this doesn't include the extra data that the campaign budget was reduced which reduced the total number of conversions possible.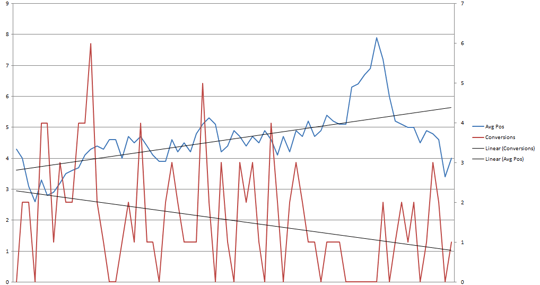 The graph below shows that the only strong correlation is that if the average position of the AdWords dropped below 5 it killed conversions. So while bidding higher has an impact on conversions this campaign needs to ensure that any conversion keyword never drops below position 5 in the SERPs.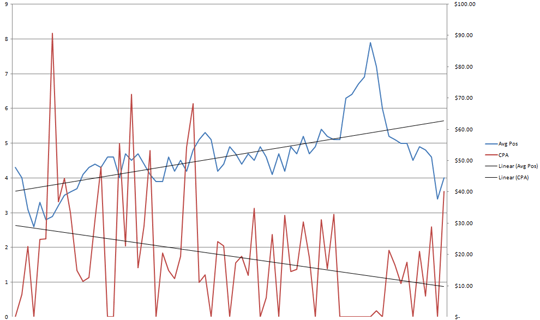 As you can see in the graph the ideal CPA rate appears to be around $21.38 and a conversion rate of 14.28% which means we have to slightly increase the conversion rate through tweaking landing pages, testing ad copy and refining keywords but can also slightly increase bid rates.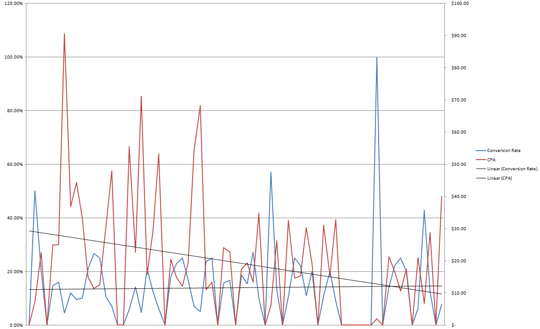 Better Strategy by AdGroups
A better search strategy which I have now implemented is to break down Maximum CPA by AdGroups as some terms only convert at far higher CPA rates or better conversion rates so adjustments were made. It is important to understand that while you have to set baselines you do need to be flexible within each AdGroup if you want an effective campaign as one rule doesn't work for an entire campaign. The campaign used in this example has now improved conversion rates to over 20% and lowered the CPA rate to around $13.73 from the initial CPA of $54.28 which means more leads for the client and better ROI but it will be continuously improved.
AdWords Campaign Averages
Conversion Rate 13.45%
CPA $19.50
Avg CPC $1.83
Avg Position 4.63
Impression Share 37.16%