Google Ads is expanding its automated bidding solutions by giving advertisers three more options to choose from.
The three new choices include:
A new way to pay for campaigns
Expanded support for non-guaranteed deals
The ability to manage automated bidding at the insertion order level
Here's more detail about the three new automated bidding options.
Outcome-based buying
With outcome-based buying, advertisers can now pay only for the outcomes they care about. Previously, automated bidding only supported buying on a cost-per-thousand impressions (CPM) basis.
Outcome-based buying supports cost-per-click buying for campaigns that use CPA or maximize conversion strategies.
Google Ads Display & Video 360 will optimize bids to help advertisers get more of the actions they care about – such as clicks, conversions, and installs. Advertisers will only be charged for clicks.
Automated bidding for non-guaranteed deals
Google Ads is expanding automated bidding to non-guaranteed deals. In the deal has a floor price then Display & Video 360 will take that into consideration and ensure ads are showing as planned.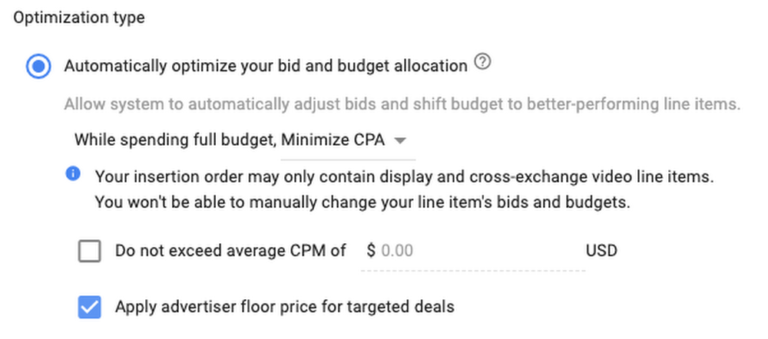 Automated bidding at insertion-order level
Advertisers can now set their automated bidding strategy at the insertion-order level rather than the line-item level.
Taking performance into consideration across multiple line item will allow automated bidding to shift spend to the high performing line items, which Google says will deliver better returns for the same spend.